Evaluation the Mechanical Properties of Kaolin Particulate Reinforced Epoxy Composites
Jabbar Hussein Mohmmed

Department of Materials Engineering / University of Technology/ Baghdad
Abstract
Epoxy resin has many chemical features and mechanical properties, but it has a small elongation at break, low impact strength and crack propagation resistance, i.e. it exhibits a brittle behavior. In the current study, the influence of adding kaolin with variable particle size on the mechanical properties (flexural modulus E, toughness Gc, fracture toughness Kc, hardness HB, and Wear rate WR) of epoxy resin was evaluated. Composites of epoxy with varying concentrations (0, 10, 20, 30, 40 weights %) of kaolin were prepared by hand-out method. The composites showed improved (E, Gc, Kc, HB, and WR) properties with the addition of filler. Also, similar results were observed with the decrease in particle size. In addition, in this study, multiple regression models were developed by utilizing (SPSS) package to predict the properties of kaolin reinforced epoxy composites. Good agreement was obtained between the predicted and the experimental results. The accuracy of prediction was (89.71%, 80.58%, 85.82%, 92.27%, and 94.49%) for E, Gc, Kc, HB, and WR, respectively.
Downloads
Download data is not yet available.
References
Y. Wang, and J.J. Wang, (1999), "Shear yield behavior of calcium carbonate-filled polypropylene", Polymer Eng. & Sci., vol. 39, No.1, pp. 190–198.
I. Plesa, P. V. Notingher, S. Schlögl, C. Sumereder, and M. Muhr, (2016), "Properties of Polymer Composites Used in High-Voltage Applications ", Polymer Journal, vol. 8, No. 126, pp. 1-63.
E. G. Guerica, J. I. Eguiazabal, and J. Nazabal, (1998), "Influence of molding conditions and talc content on the properties of polypropylene composites", European Polymer Journal, vol. 34, No. 98, pp. 1213–1219.
M. S. Bhatnagar, (1993), "Epoxy resins from 1980 to date", Part 1, Polymer-Plastics Technolgy and Eng. Journal, vol. 32, No. 1-2, pp. 53-113.
S. R. Lu, X. E. L. Xiao, L. Pan, F. Z. Tan, and J. H. Yu, (2014), "Enhanced thermal and mechanical properties of epoxy composites by mixing thermotropic liquid crystalline epoxy grafted graphene oxide", eXPRESS Polymer Letters, vol.8, No.7, pp. 467–479.
A. C. Moloney, H. H. Kausch, and H. R. Stieger, (1983), "The Fracture of Particulate-Filled Epoxy Resin", Journal of Materials Science, vol. 18, No. 1, pp. 208 – 216.
J. Spanoudakis, and R., J. Young, (1984), "Crack Propagation in a Glass Particulate-Filled Epoxy Resin", Journal of Materials Science, vol. 19, No. 2, pp. 473 – 486.
S. Fellahi, N. Chikhi, and M. Bakar, (2001), "Modification of Epoxy Resin with Kaolin as a Toughening Agent", Journal of Applied Polymer Sci., vol. 82, No. 4, pp. 861 – 878.
B. M. Deya'a, F. M. Hussien, and I. G. Dway, (2011), "Studying the Impact Strength of (Epoxy with TiO2 and MgO) Composite", Eng. and Tech. Journal, vol. 29, No. 10, pp. 1971-1978.
J. A. Bennet, and R. J. Young, (1998), "The effect of fiber-matrix adhesion upon crack bridging in fiber reinforced composites", Composites Part A: Applied Science and Manufacturing, vol. 29, No. 9-10, pp. 1071-1081
V. A. Alvarez, M. E Valdez, and A. Vasquez, (2003), "Dynamic mechanical properties and interphase fiber/matrix evaluation of unidirectional glass fiber/epoxy composites,", Polymer Testing, vol. 22, No. 6, pp. 611-615.
D. K Shukla, and R. K. Srivastava, (2011), "Effect of Alumina Platelet Reinforcement on Dynamic Mechanical Properties of Epoxy", Proceedings of the World Congress on Engineering, London, U.K, Vol III.
N. J. Saleh, and S. N. Mustafa, (2011), " A Study of Some Mechanical, Thermal and Physical Properties of Polymer Blend with Iraqi Kaolin Filler", Eng. and Tech. Journal, vol. 29, No. 11, pp. 2114-2131.
A. M. Hameed, (2000), "Study of the Effect of Reinforcement with Fibers on Some Physical Characteristics of Composite Material", M.Sc. Thesis, University of Technology.
V. Shah, (2007), "Handbook of Polymer Testing and Failure Analysis", 3rd edition, New Jersey, John Wily & Sons, Inc., 648.
H. V. Ramakrishna, and S. K. Rai, (2006), "Utilization of Granite Powder as a Filler for Polybutylene Terepthalate Toughened Epoxy Resin", Journal of Minerals & Materials Characterization & Engineering, Vol. 5, No.1, pp 1-19.
E. Suryani, E. S. Abdul Rashid, K. Ariffin, and C. C. Kooi, (2006), "The Flexural and Morphological Properties of α-Alumina Filled Epoxy Composites", Malaysian Polymer Journal, Vol 1, No. 1, pp. 25-38.
S. Bose, and P. A. Mahanwar, (2004), "Effect of Particle Size of Filler on Properties of Nylon-6", Journal of Minerals & Materials Characterization & Engineering, Vol. 3, No.1, pp. 23-31.
F. F. Lange, and K. C. Radford, (1971), "Fracture Energy of an Epoxy Composite System", Journal of Materials Science, vol. 6, No, 9, pp.1197–1203.
H.Nakagawa, and H.Sano, (1982), Polym. Prepr., Vol. 26, p.249.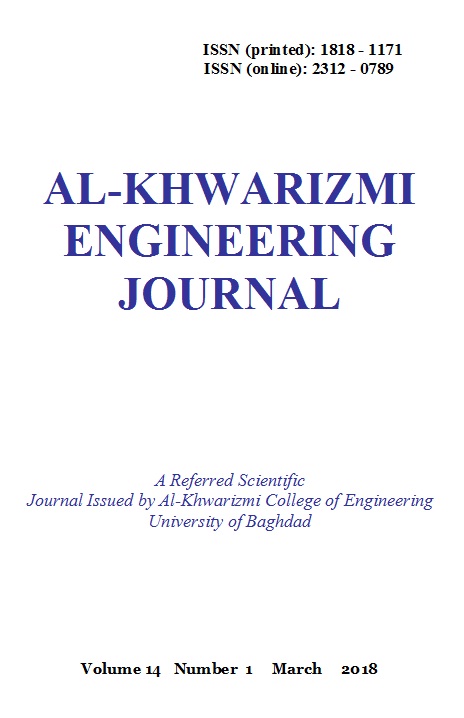 How to Cite
Mohmmed, J. (2018). Evaluation the Mechanical Properties of Kaolin Particulate Reinforced Epoxy Composites. Al-Khwarizmi Engineering Journal, 14(1), 29-38. https://doi.org/10.22153/kej.2018.08.003
Copyright: Open Access authors retain the copyrights of their papers, and all open access articles are distributed under the terms of the Creative Commons Attribution License, which permits unrestricted use, distribution and reproduction in any medium, provided that the original work is properly cited. The use of general descriptive names, trade names, trademarks, and so forth in this publication, even if not specifically identified, does not imply that these names are not protected by the relevant laws and regulations. While the advice and information in this journal are believed to be true and accurate on the date of its going to press, neither the authors, the editors, nor the publisher can accept any legal responsibility for any errors or omissions that may be made. The publisher makes no warranty, express or implied, with respect to the material contained herein.