Study the Catalytic Activity of CeO2 Catalyst for the Oxidative Degradation of Orange G Dye in Aqueous Solution
Atheel Alwash

Department of Chemistry/ Collage of Science/ AL-Nahrain University
Keywords:
Cerium oxide, Oxidation process, Nanoparticles, Heterogeneous catalyst
Abstract
The oxidative degradation of Orange G dye by nanosized CeO2 catalyst has been performed in this study. The catalyst was prepared by precipitation method. Various characterization techniques were carried out to study the physical and chemical properties of the synthesized catalyst. The XRD result confirms well the formation of CeO2 cubic phase.  The FTIR result showed the effect of calcination temperature for CeO2 was clearly observed due to reduction in band intensity compared to uncalcined Ce nitrate sample. Meanwhile, the diffused reflection spectra recorded reflection spectra at 414 nm with an energy gap of 3.2 ev. The decolorization of Orange G dye by oxidation process were carried out  under various conditions such as,  the  effects  of  H2O2 dosage ,  pH, catalyst dosage  and  the  temperature of reaction. The optimum conditions for the highest decolorization efficiency (100%) were achieved at 10 mg/L of orange G  dye with catalyst  dosage of 1.5 g/L, pH 2, reaction temperature of 65 °C and 0.1 mL H2O2.
Downloads
Download data is not yet available.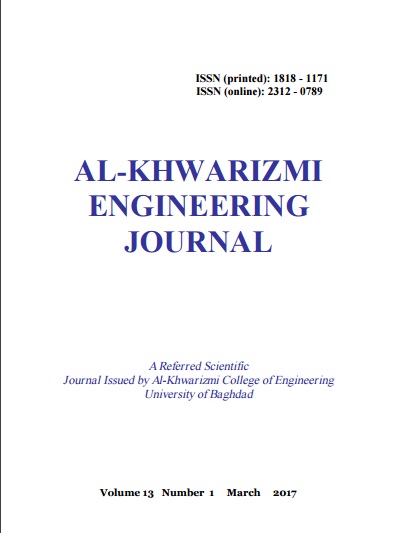 How to Cite
Alwash, A. (2017). Study the Catalytic Activity of CeO2 Catalyst for the Oxidative Degradation of Orange G Dye in Aqueous Solution. Al-Khwarizmi Engineering Journal, 13(1), 110- 117. https://doi.org/10.22153/kej.2017.09.002
Copyright: Open Access authors retain the copyrights of their papers, and all open access articles are distributed under the terms of the Creative Commons Attribution License, which permits unrestricted use, distribution and reproduction in any medium, provided that the original work is properly cited. The use of general descriptive names, trade names, trademarks, and so forth in this publication, even if not specifically identified, does not imply that these names are not protected by the relevant laws and regulations. While the advice and information in this journal are believed to be true and accurate on the date of its going to press, neither the authors, the editors, nor the publisher can accept any legal responsibility for any errors or omissions that may be made. The publisher makes no warranty, express or implied, with respect to the material contained herein.