Experimental and Theoretical Study of the Energy Flow of a Two Stages Four Generators Adsorption Chiller
Faeza Mahdi Hadi

College of Electrical and Electronics Engineering Techniques. Middle Technical University, Baghdad, Iraq
Abstract
This work is concerned with a two stages four beds adsorption chiller utilizing activated carbon-methanol adsorption pair that operates on six separated processes. The four beds that act as thermal compressors are powered by a low grade thermal energy in the form of hot water at a temperature range of 65 to 83 °C.  As well as, the water pumps and control cycle consume insignificant electrical power. This adsorption chiller consists of three water cycles. The first water cycle is the driven hot water cycle. The second cycle is the cold water cycle to cool the carbon, which adsorbs the methanol. Finally, the chilled water cycle that is used to overcome the building load. The theoretical results showed that average cycle cooling power is 2.15kW, while the experimental measurement revealed that the cooling capacity of the cycle is about 1.98 kW with a relative error of % 0.02. The generator and condensing temperatures are 83 and 30 °C, respectively. The coefficient of performance (COP) of that chiller was in the range of 0.37 to 0.49. The best operating point and the best working conditions were also investigated. The present chiller is superior more than the single stage, two beds adsorption chiller that works on the activated carbon methanol pair that needs a high ambient temperature.
Downloads
Download data is not yet available.
References
H.L. Luo, Y.J. Dai, R.Z. Wang, J.Y. Wu, Y.X. Xu, J.M. Shen, Experimental investigation of a solar adsorption chiller used for grain depot cooling, Appl. Therm. Eng. 26 (2006) 1218–1225.
T. Núñez, W. Mittelbach, H.M. Henning, Development of an adsorption chiller and heat pump for domestic heating and air-conditioning applications, Appl. Them. Eng. 27(2007) 2205–2212.
A. Myat, N. K. Choon, K. Thu, Y.D. Kim, Experimental investigation on the optimal performance of Zeolite–water adsorption chiller, Appl. Energy 102 (2013) 582–590.
S. Qian, K. Gluesenkamp, Y. Hwang, R. Radermacher, H.Chun, Cyclic steady state performance of adsorption chiller with low regeneration temperature zeolite, Energy 60(2013) 517-526.
M. Pons, J.J. Guilleminot, Design of an experimental solarpowered adsorption ice maker, ASME JJSE 108 (1986) 332– 337.
R.E. Critoph, Performance limitations of adsorption cycles for solar cooling, Sol Energy 41 (1) (1988) 21–31.
Abdual Hadi N. Khalifa,Fawziea M. Hussein,Faeza M. Hadi. Experimental Study on Two Beds Adsorption Chiller with Regeneration, Modern Applied Science Vol. 5, No. 4; August 2011
Saha BB, Boelman EC, Kashiwagi T. Computational analysis of an advanced adsorption-refrigeration cycle. Energy 1995;20:983–94.
Chua HT, Ng KC, Malek A, Kashiwagi T, Akisawa A, Saha BB. Multi-bed regenerative adsorption chiller—improving the utilization of waste heat and reducing the chilled water outlet temperature fluctuation. Int J Refrig 2001;24:124–36.
Alam KCA, Hamamoto Y, Akisawa A and Kashiwagi T. Advanced adsorption chiller driven by low temperature heat source. In: Proceedings of 21st international congress of refrigeration (CD ROM), 2003, Washington, DC, Paper no 136.
A.A.S.Al-Maaitah,A.A.Al-Maaitah,(2013), Two-stage low temperature air cooled adsorption cooling unit, patent No.: US8,479,529 B2
Ayman Adnan AL-Maaitah and Faeza Mahdi Hadi,Experimental Investigation of Two Stages Adsorption Chiller with Four Generators Utilizing Activated Carbon and Methanol as Working Pair International Journal of Current Engineering and Technology, Vol.7, No.1 (Feb 2017)
A.S.Uyuna,*,A. Akisawaa, T.Miyazakia, Y.Uedaa,T.Kashiwagib.Numerical analysis of an advanced three-bed mass recovery adsorption refrigeration cycle,Applied thermal engineering 29(2009)2876-2884.
Kline, S. J. and McClintock, F. A.," Describing uncertainties in Single sample experimental", Mechanical Engineering, Vol. 75, PP. (3-8), 1953.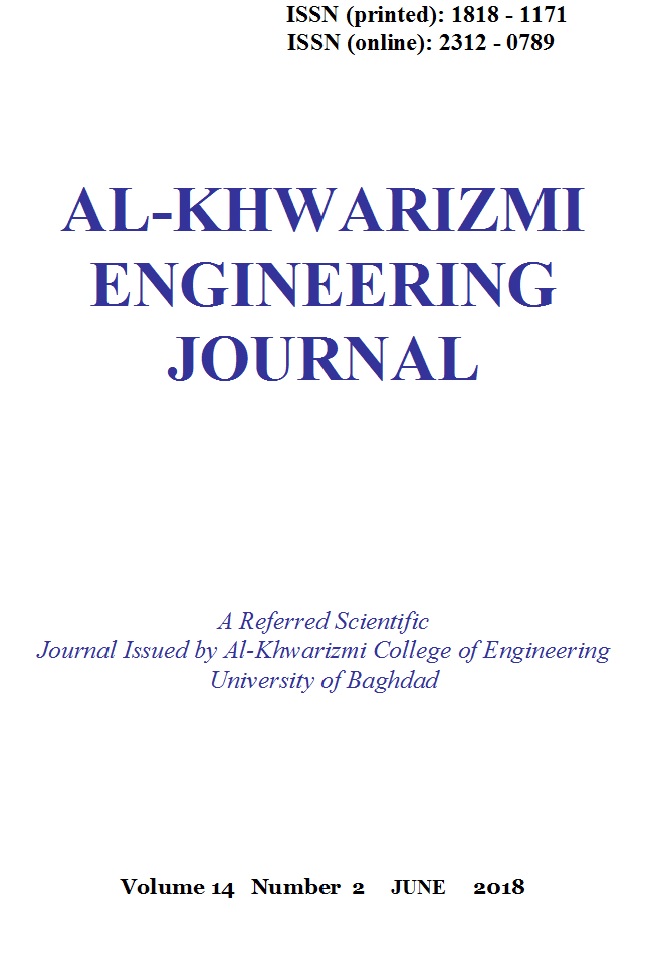 How to Cite
Hadi, F. (2019). Experimental and Theoretical Study of the Energy Flow of a Two Stages Four Generators Adsorption Chiller. Al-Khwarizmi Engineering Journal, 14(2), 129- 136. https://doi.org/10.22153/kej.2018.01.002
Copyright: Open Access authors retain the copyrights of their papers, and all open access articles are distributed under the terms of the Creative Commons Attribution License, which permits unrestricted use, distribution and reproduction in any medium, provided that the original work is properly cited. The use of general descriptive names, trade names, trademarks, and so forth in this publication, even if not specifically identified, does not imply that these names are not protected by the relevant laws and regulations. While the advice and information in this journal are believed to be true and accurate on the date of its going to press, neither the authors, the editors, nor the publisher can accept any legal responsibility for any errors or omissions that may be made. The publisher makes no warranty, express or implied, with respect to the material contained herein.