Theoretical Prediction of Optimum Chilled Water Distribution Configuration in Air Conditioning Terminal Unit
Ahmed Abd Mohammed Saleh

Department of Mechanical Engineering/ University of Technology/ Baghdad

Ali Reyadh Shabeeb

Department of Mechanical Engineering/ University of Technology/ Baghdad
Abstract
 The distribution of chilled water flow rate in terminal unit is a major factor used to evaluate the performance of central air conditioning unit. In this work, a theoretical chilled water distribution in the terminal units has been studied to predict the optimum heat performance of terminal unit. The central Air-conditioning unit model consists of cooling/ heating coil (three units), chilled water source (chiller), three-way and two-way valve with bypass, piping network, and pump. The term of optimization in terminal unit ingredient has two categories, the first is the uniform of the water flow rate representing in statically permanents standard deviation (minimum value) and the second category is the maximum heat transfer rate from all terminal units. The hydraulic and energy equations governing the performance of unit solved with the aid of FORTRAN code with considering the following parameters: total water flow rate, chilled water supply temperature, and variable valve opening. It was found that the optimum solution of three-way valve case at 8°C water supply temperature, 0.12 kg/s total water flow rate and valve opening order (valve 1: 100%, valve 2: 100% and valve 3: 75%) with total heat rate (987.92 Watt) and standard deviation (1.181E-3). Also, for the two-way valve case the results showed that the optimum condition at 8°C water supply temperature, 0.12 kg/s total water flow rate and valve opening order (valve 1: 75%, valve 2: 75% and valve 3: 50%) with total heat rate and standard deviation (717Watt) and (5.69E-4) respectively.
Downloads
Download data is not yet available.
References
Donald P. Fiorino,"Achieving high chilled-water delta Ts", ASHRAE Journal Vol.41, (1999).
Shimoda yoshiyuki, Minoru mizuno, Shigeki kametani and Shin-ichi kawamura, "Evaluation of distribution system performance in district heating and cooling system." Proceedings of sixth International IBPSA conference, (1999).
Gang Wang, Mingsheng, Bin Zheng, and Mingsheng Liu. , "Impacts on building return water temperature in district cooling systems", ASME 2006 International Solar Energy Conference, American Society of Mechanical Engineers, (2006).
Thirakomen Kecha and ASHRAE Thailand Chapter–BOG, "Stabilizing Chilled Water Distribution" Ashraei Thailand Chapter Journal, pp. 27-31, (2007).
Jingjing Liu, Hui Li and Zhiqin Zhang, "Simulations of Chilled Water Cooling Coil Delta-T Characteristics ", Ashrae Transactions 118, (2012).
Jin-ping Liu, Xue-feng Liu, Ji-dong Lu, Lei Liu and Wei Zou, "Research on operating characteristics of direct-return chilled water system controlled by variable temperature difference", Energy Vol. 40. 1, PP. 236–249, (2012).
Benefield, Larry D., Joseph F. Judkins, and A. David Parr, "Treatment plant hydraulics for environmental engineers", Englewood Cliffs, New Jersey: Prentice-Hall, (1984).
Friction Losses in Pipe Fittings Resistance Coefficient K, http://www.metropumps.com/ResourcesFrictionLossData.pdf.
Fisher Controls International, Inc., catalog 12, U.S.A., (2001).
Holman J. P., "Heat Transfer", Tenth Edition, by the McGraw-Hill Companies, Inc., (2010).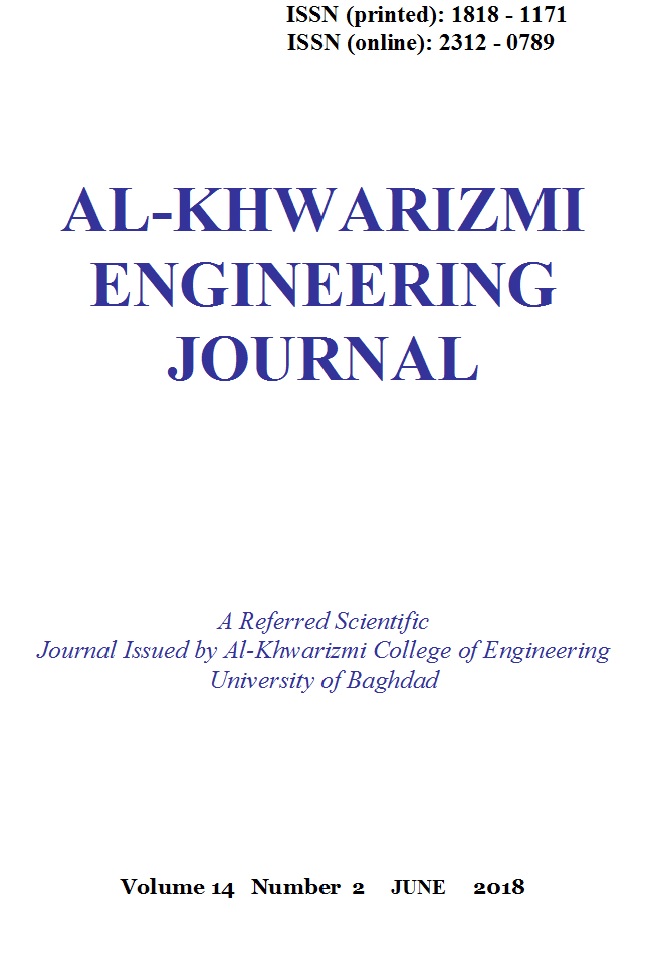 How to Cite
Saleh, A., & Shabeeb, A. (2019). Theoretical Prediction of Optimum Chilled Water Distribution Configuration in Air Conditioning Terminal Unit. Al-Khwarizmi Engineering Journal, 14(2), 137- 146. https://doi.org/10.22153/kej.2018.12.006
Copyright: Open Access authors retain the copyrights of their papers, and all open access articles are distributed under the terms of the Creative Commons Attribution License, which permits unrestricted use, distribution and reproduction in any medium, provided that the original work is properly cited. The use of general descriptive names, trade names, trademarks, and so forth in this publication, even if not specifically identified, does not imply that these names are not protected by the relevant laws and regulations. While the advice and information in this journal are believed to be true and accurate on the date of its going to press, neither the authors, the editors, nor the publisher can accept any legal responsibility for any errors or omissions that may be made. The publisher makes no warranty, express or implied, with respect to the material contained herein.