UAV Control Based on Dual LQR and Fuzzy-PID Controller
Malik M. A. Al-Isawi

Department of Mechatronics Engineering/ Al-Khwarizmi college/ of Engineering/ University of Baghdad

Adnan J. Attiya

Department of Mechatronics Engineering/ Al-Khwarizmi college/ of Engineering/ University of Baghdad

Julius O. ADOGHE

Department of Mechanical and Aerospace/Carleton University/ Canada
Abstract
This paper presents the design of a longitudinal controller for an autonomous unmanned aerial vehicle (UAV). This paper proposed the dual loop (inner-outer loop) control based on the intelligent algorithm. The inner feedback loop controller is a Linear Quadratic Regulator (LQR) to provide robust (adaptive) stability. In contrast, the outer loop controller is based on Fuzzy-PID (Proportional, Integral, and Derivative) algorithm to provide reference signal tracking. The proposed dual controller is to control the position (altitude) and velocity (airspeed) of an aircraft. An adaptive Unscented Kalman Filter (AUKF) is employed to track the reference signal and is decreased the Gaussian noise. The mathematical model of aircraft has been (Cessna 172) presented. The stability and robustness of the system have been verified in a simulation experiment.
Downloads
Download data is not yet available.
References
M.M. Al-Isawi and J.Z. Sasiadek, "Guidance and Control of Autonomous, Flexible Wing UAV with Advanced Vision System," IEE/ 23rd International Conference on Methods & Models in Automation & Robotics (MMAR), pp. 441-448, 2018.
G. Cai, Y. Lum, M. Chen, and H. Lee, "A brief overview on miniature fixed wing unmanned aerial vehicles," Proc. 8th IEEE International Conf. on Control and Automation, Xiamen, China, pp. 285–290, 2010.
B. L. Stevens, and F. L. Lewis, Aircraft control and simulation, John Wiley & Sons Inc., 2nd edition, 2003.
T. R. Teo, J. S. Jang, and C. J. Tomlin, "Automated multiple UAV flight – the stanford dragonFly UAV program," 43rd IEEE Conference on Decision and Control. 2004.
T. Kara, and A.H. Mary, "Robust trajectory tracking control of robotic manipulators based on model-free PID-SMC approach," Journal Of Engineering Research, vol 6, no. 3, pp.170-188, 2018.
T. Kara, and A.H .Mary, "Adaptive PD-SMC for Nonlinear Robotic Manipulator Tracking Control," Studies in Informatics and Control, vol. 26, no. 1, pp.49-58, 2017.
H. Bolandi, M. Rezaei, R. Mohsenipour, H. Nemati, and M. Smailzadeh, "Attitude control of a quadrotor with optimized PID controller," Intelligent Control and Automation, pp. 335-342, 2013.
A. Sarhan, and M. Ashry, "Self-tuned PID controller for the Aerosonde UAV autopilot," International Journal of Engineering Research & Technology (IJERT), vol. 2 Issue 12, pp. 3329-3340, 2013.
M.M. Al-Isawi, and J.Z. Sasiadek, "Guidance and Control of a Robot Capturing an Uncooperative Space Target," Journal of Intelligent & Robotic Systems, vol. 93, no. 3-4, pp.713-721, 2019.
M.M. Al-Isawi, and J.Z. Sasiadek, "Control of flexible wing UAV using stereo camera," In Aerospace Robotics III , pp. 97-120, Springer, Cham, 2019.
T.C.T. Ng, F.H.F. Leung, and P.K.S .Tam, "A simple gain scheduled PID controller with stability consideration based on a grid-point concept," Proceedings of the IEEE International Symposium on Industrial Electronics, pp. 1090-1094, 1997.
A. Brezoescu, T. Espinoza, P. Castillo, and R. Lozano, "Adaptive trajectory following for a fixed-wing UAV in presence of crosswind," Journal of intelligent and robotic systems, vol 69, no.1-4, pp. 257-271, 2013.
S. Z.l S. Al-Khayyt," Tuning PID Controller by Neural Network for Robot Manipulator Trajectory Tracking," Al-Khwarizmi Engineering Journal (ALKEJ), vol. 9, no. 3, pp. 19-28, 2013.
H.B. Kazemian, "Developments of fuzzy PID controllers," Expert Systems, vol.22, no.5, pp. 254-264, 2005.
A.H. Mary, T .Kara, and A.H Miry, "Inverse kinematics solution for robotic manipulators based on fuzzy logic and PD control," IEEE/ Al-Sadeq International Conference on Multidisciplinary in IT and Communication Science and Applications (AIC-MITCSA), pp. 1-6, 2016.
D. Zhou, and Q. Geng, "Multi-model and fuzzy PID control for fixed-wing UAV," 3rd International Conference on Mechatronics, Robotics and Automation (ICMRA 2015), pp 523-528, 2015.
L.M. Argentim, W.C. Rezende, P.E. Santos, and R.A. Aguiar, "PID, LQR and LQR-PID on a quadcopter platform," IEEE International Conference on Informatics, Electronics & Vision (ICIEV), pp. 1 – 6, 2013.
X.J. Xing, J.G. Yan, and D. L. Yuan, "Augmented-stability controller design and its simulation or a UAV based on LQR theory," Flight Dynamics, vol. 29, No. 5, pp. 54-56, 2011.
Y. LI, C. Chen, and W. Chen, "Research on longitudinal control algorithm for flying wing UAV based on LQR technology," International Journal on Smart Sensing and Intelligent Systems vol. 6, no. 5, pp. 2155-2181, 2013.
M. R. Rahimi, S. Hajighasemi, D. Sanaei, "Designing and Simulation for Vertical Moving Control of UAV System using PID, LQR and Fuzzy logic," International Journal of Electrical and Computer Engineering (IJECE), vol. 3, no. 5, pp. 651-659, 2013.
K. K. Yit, P. Rajendran and L. K. Wee, "Proportional-derivative linear quadratic regulator controller design for improved longitudinal motion control of unmanned aerial vehicles," International Journal of Micro Air Vehicles, 2016.
S.M. Raafat, Z. Sh. Mahmoud, " Robust Multiple Model Adaptive Control for Dynamic Positioning of Quadrotor Helicopter System," Engineering and Technology Journal, vol. 36, no.12, Part (A), p.p. 1249-1259, 2018.
M. V. Cook, Flight Dynamics Principles, Arnold, London, 3rd edition, 2013.
Roskam, "Airplane Design," Part VI: "Preliminary Calculation of Aerodynamic, Thrust and Power Characteristics, 1987.
M. Chiaramonti, F. Giulietti and G. Mengali, "Formation control laws for a formation of autonomous flight vehicles," 14th Mediterranean Conference Control and Automation, 2006.
M.R. Rahimi, R. Ghasemi, and D. Sanaei "Designing discrete time optimal controller for double inverted pendulum system," Int. Journal on Numerical and Analytical Engineering, vol. 1, no. ,2013.
R. Tamaskani, A. Bazzazi, A. Mohammadi, and M. Ajoudani, "Investigating the performance of Fuzzy, PID and LQR controllers for control of airplane pitch angle," Int. Journal of Natural and Engineering Sciences vol. 9, no. 1, pp. 13-17, 2015.
S.N. Sivanandam, S. Sumathi, and S.N. Deepa, "Introduction to Fuzzy logic using MATLAB," Springer Berlin Heidelberg New York, 2007.
L.A. Zadeh, "A rationale for fuzzy control," J. Dynamic Syst. Meas. Control, vol.94, series G, pp.3 – 4, 1972.
HB. Kazemian "Developments of fuzzy PID controllers," Expert Systems, vol. 22, no. 5, pp. 254-264, 2005.
C. Lee, "Fuzzy logic in control system: fuzzy logic controller I System," Man and Cybernatics, IEEE Transaction, vol. 20, pp. 404-418, 1990.
C. Lee, "Fuzzy logic in control System: Fuzzy Logic Controller II," System, Man and Cybernatics, IEEE Transaction, vol. 20, pp. 419-435, 1990.
Y. Shengyi, L. Kunqin, and S. Jiao, "Design and simulation of the longitudinal autopilot of UAV based on self-adaptive fuzzy PID control," International Conference on Computational Intelligence and Security, 2009.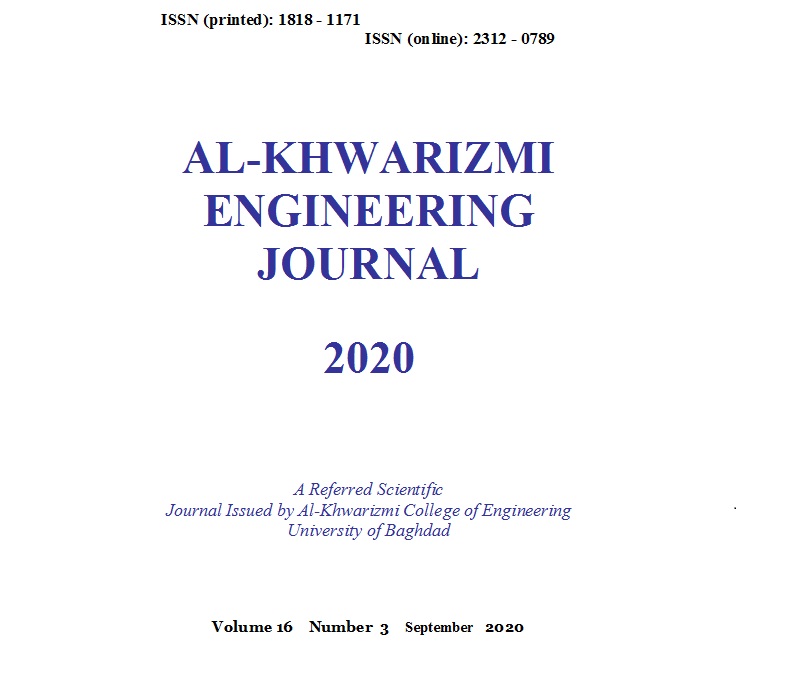 (Received 6 February 2020; accepted 23 Augusta 2020)
How to Cite
A. Al-Isawi, M., Attiya, A., & ADOGHE, J. (2020). UAV Control Based on Dual LQR and Fuzzy-PID Controller. Al-Khwarizmi Engineering Journal, 16(3), 43-53. https://doi.org/10.22153/kej.2020.08.001
Copyright: Open Access authors retain the copyrights of their papers, and all open access articles are distributed under the terms of the Creative Commons Attribution License, which permits unrestricted use, distribution and reproduction in any medium, provided that the original work is properly cited. The use of general descriptive names, trade names, trademarks, and so forth in this publication, even if not specifically identified, does not imply that these names are not protected by the relevant laws and regulations. While the advice and information in this journal are believed to be true and accurate on the date of its going to press, neither the authors, the editors, nor the publisher can accept any legal responsibility for any errors or omissions that may be made. The publisher makes no warranty, express or implied, with respect to the material contained herein.