Adsorption of Indigo Carmen Dye by Using Corn Leaves as Natural Adsorbent Material
Omar H. Fadhil H. Fadhil

Department of Medical Laboratory Technology/ College of Medical Science/ Al-Mashreq University

Mohammed Y. Eisa

Department of Biochemical Engineering/ Al-Khwarizmi College of Engineering/ University of Baghdad

Dina Abdalrahman Salih

Department of Biochemical Engineering/ Al-Khwarizmi College of Engineering/ University of Baghdad

Ziad R. Nafeaa

Department of Biochemical Engineering/ Al-Khwarizmi College of Engineering/ University of Baghdad
Abstract
In this paper, the ability of using corn leaves as low-cost natural biowaste adsorbent material for the removal of Indigo Carmen (IC) dye was studied. Batch mode system was used to study several parameters such as, contact time (4 days), concentration of dye (10-50) ppm, adsorbent dosage (0.05-0.25) gram, pH (2-12) and temperature (30-60) oC. The corn leaf was characterized by Fourier-transform infrared spectroscopy device before and after the adsorption process of the IC dye and scanning electron microscope device was used to find the morphology of the adsorbent material. The experimental data was imputing with several isotherms where it fits with Freundlich (R2 = 0.9937) and followed pseudo second order kinetic. The highest removal percent was equal to 91% of the dye which makes the corn leaves a suitable efficient material for the removal of IC dye from aqueous solutions.
Downloads
Download data is not yet available.
References
A. P. Vieira Et Al., "Kinetics and Thermodynamics of Textile Dye Adsorption From Aqueous Solutions Using Babassu Coconut Mesocarp," J. Hazard. Mater., Vol. 166, No. 2–3, Pp. 1272–1278, 2009.
C. Nwodika and O. D. Onukwuli, "Adsorption Study of Kinetics aNut Pod Carbon," Vol. 30, No. 4, Pp. 86–102, 2017.
O. H. Fadhil and M. Y. Eisa, "Removal of Methyl Orange From Aqueous Solutions by Adsorption Using Corn Leaves as Adsorbent Material," J. Eng., 2019.
D. K. Tyagi and O. P. Yadav, "Equilibrium and Kinetic Studies on Adsorption of Aniline Blue from Aqueous," Vol. 2, No. 3, 2011.
P. E. Dim, "Adsorption of Methyl Red and Methyl Orange Using Different Tree Bark Powder," Acad. Res. Int., Vol. 4, No. 1, Pp. 330–338, 2013.
J. W. Owens, "Chemical Toxicity Indicators for Human Health: Case Study for Classification of Chronic Noncancer Chemical Hazards in Life-Cycle Assessment," Environ. Toxicol. Chem., 2002.
A. M. Aljeboree, A. N. Alshirifi, and A. F. Alkaim, "Kinetics and Equilibrium Study for The Adsorption of Textile Dyes on Coconut Shell Activated Carbon," Arab. J. Chem., 2017.
O. M. Paşka, C. Pəcurariu, and S. G. Muntean, "Kinetic and Thermodynamic Studies on Methylene Blue Biosorption Using Corn-Husk," Rsc Adv., 2014.
A. Ibrahim, M.B and Umar, "Adsorption Thermodynamics of Some Basic Dyes Uptake from Aqueous Solution Using Albizia Lebbeck Shells," Chemsearch J., Vol. 7, No. 1, Pp. 43–51, 2016.
Y. O. Khaniabadi, R. Heydari, H. Nourmoradi, H. Basiri, and H. Basiri, "Low-Cost Sorbent for The Removal of Aniline and Methyl Orange from Liquid-Phase: Aloe Vera Leaves Wastes," J. Taiwan Inst. Chem. Eng., Vol. 68, Pp. 90–98, 2016.
A. Kezerle, N. Velic, D. Hasenay, and D. Kovačevic, "Lignocellulosic Materials as Dye Adsorbents: Adsorption of Methylene Blue And Congo Red on Brewers' Spent Grain," Croat. Chem. Acta, 2018, Doi: 10.5562/Cca3289.
B. K. Aziz and K. Faraidoon, "Adsorption Of Crystal Violet on Walnut Shell from Aqueous Solution," No. 04, Pp. 4–8, 2015.
Y. S. Ho and G. Mckay, "A Comparison of Chemisorption Kinetic Models Applied to Pollutant Removal on Various Sorbents," Process Safety and Environmental Protection. 1998.
A. E. Martins Et Al., "The Reactive Surface of Castor Leaf [Ricinus Communis L.] Powder as A Green Adsorbent for The Removal of Heavy Metals From Natural River Water," Appl. Surf. Sci., 2013.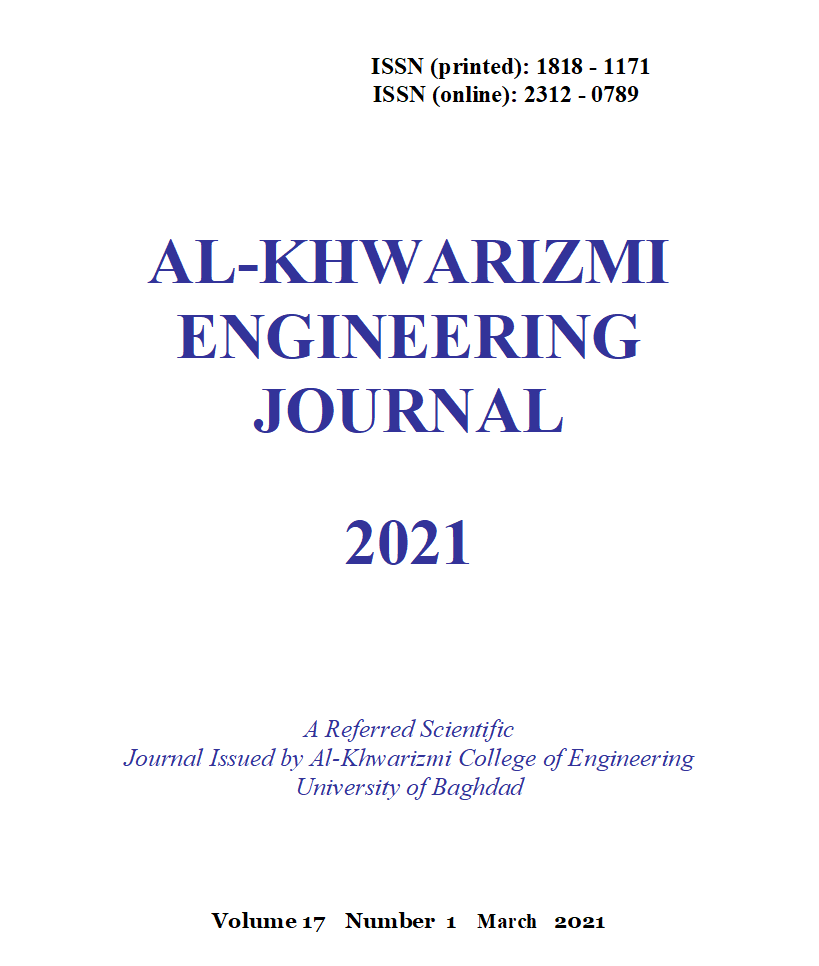 (Received 26 September 2020; accepted 16 November 2020)
How to Cite
Fadhil, O. H. F., Eisa, M., Salih, D., & Nafeaa, Z. (2021). Adsorption of Indigo Carmen Dye by Using Corn Leaves as Natural Adsorbent Material. Al-Khwarizmi Engineering Journal, 17(1), 43-50. https://doi.org/10.22153/kej.2021.11.002
Copyright: Open Access authors retain the copyrights of their papers, and all open access articles are distributed under the terms of the Creative Commons Attribution License, which permits unrestricted use, distribution and reproduction in any medium, provided that the original work is properly cited. The use of general descriptive names, trade names, trademarks, and so forth in this publication, even if not specifically identified, does not imply that these names are not protected by the relevant laws and regulations. While the advice and information in this journal are believed to be true and accurate on the date of its going to press, neither the authors, the editors, nor the publisher can accept any legal responsibility for any errors or omissions that may be made. The publisher makes no warranty, express or implied, with respect to the material contained herein.