Modeling and Simulation for Performance Evaluation of Optical Quantum Channels in Quantum key Distribution Systems
Adil Fadhil Mushatet

Al-Khwarizmi Engineering College/ University of Baghdad/ Iraq

Shelan Khasro Tawfeeq

Institute of Laser for Postgraduate Studies/ University of Baghdad/ Iraq
Abstract
In this research work, a simulator with time-domain visualizers and configurable parameters using a continuous time simulation approach with Matlab R2019a is presented for modeling and investigating the performance of optical fiber and free-space quantum channels as a part of a generic quantum key distribution system simulator. The modeled optical fiber quantum channel is characterized with a maximum allowable distance of 150 km with 0.2 dB/km at =1550nm. While, at =900nm and =830nm the attenuation values are 2 dB/km and 3 dB/km respectively. The modeled free space quantum channel is characterized at 0.1 dB/km at =860 nm with maximum allowable distance of 150 km also. The simulator was investigated in terms of the execution of the BB84 protocol based on polarizing encoding with consideration of the optical fiber and free-space quantum channel imperfections and losses by estimating the quantum bit error rate and final secure key. This work shows a general repeatable modeling process for significant performance evaluation. The most remarkable result that emerged from the simulated data generated and detected is that the modeling process provides guidance for optical quantum channels design and characterization for other quantum key distribution protocols.
Downloads
Download data is not yet available.
References
Douglas D Hodson, Michael R Grimaila, Logan O Mailloux, Colin V McLaughlin, and Gerald Baumgartner, "Modeling quantum optics for quantum key distribution system simulation,"Journal of Defense Modeling and Simulation: Applications, Methodology, Technology", vol. 16, Issue 1,2017.
Nicolas Gisin, Gre´ goire Ribordy, Wolfgang Tittel, and Hugo Zbinden," Quantum cryptography", Reviews of Modern Physics, Vol. 74, January 2002.
H. Lo, "Unconditional Security of Quantum Key Distribution over Arbitrarily Long Distances," Science (80-. )., vol. 283, no. 5410, p. 20502056, 1999, doi: 10.1126/science.283.5410.2050.
Nathaniel T Sorensen1 and Michael R Grimaila, "Discrete Event Simulation of the quantum channel within a Quantum Key Distribution system," The Journal of Defense Modeling and Simulation: Applications, Methodology, Technology, Vol. 12, Issue 4, page(s): 481-488, 2015.
Jonathan C Denton, Douglas D Hodson, Richard G Cobb, Logan O Mailloux,
Michael R Grimaila, and Gerald Baumgartner, " A model to estimate performance of space-based quantum communication protocols including quantum key distribution systems," The Journal of Defense Modeling and Simulation: Applications, Methodology, Technology, Vol. 16, Issue1, page(s): 5-13, 2017.
D. D. Hodson, M. R. Grimaila, L. O. Mailloux, C. V McLaughlin, and G. Baumgartner, "Modeling quantum optics for quantum key distribution system simulation," J. Def. Model. Simul., vol. 16, no. 1, pp. 15–26, Jan. 2017, doi: 10.1177/1548512916684561.
L. Mailloux, M. Grimaila, D. Hodson, L. E. Dazzio-Cornn, C. McLaughlin, and L. DazzioCornn, "Modeling Continuous Time Optical Pulses in a Quantum Key Distribution Discrete Event Simulation," 2014.
I. P. Kaminow, T. Li, and A. E. Willner, Optical Fiber Telecommunications V A, 5th Edition. Elsevier Inc., 2008.
S. Ali and M. R. B. Wahiddin, "Fiber and free-space practical decoy state QKD for both BB84 and SARG04 protocols," Eur. Phys. J. D, vol. 60, no. 2, pp. 405–410, 2010, doi: 10.1140/epjd/e2010-00214-5.
L. Moli-Sanchez, A. Rodriguez-Alonso, and G. Seco-Granados, "Performance analysis of quantum cryptography protocols in optical earth-satellite and intersatellite links," IEEE J. Sel. Areas Commun., vol. 27, no. 9, pp. 1582–1590, 2009, doi: 10.1109/JSAC.2009.091208.
S. K. Jain, Hemani Kaushal Virander Kumar, Free Space Optical Communication ,Optical Networks, 1st edition. Springer, 2017.
S. R. by Z. Ghassemlooy, W. Popoola, Optical Wireless Communications:System and Channel Modelling with MATLAB, 1st edition. CRC Press, 2012.
T. Schmitt-Manderbach et al., "Experimental Demonstration of Free-Space Decoy-State Quantum Key Distribution over 144 km," Phys. Rev. Lett., vol. 98, no. 1, p. 10504, Jan. 2007, doi: 10.1103/PhysRevLett.98.010504.
A. I. Khaleel and S. K. Tawfeeq, "Key rate estimation of measurement-device-independent quantum key distribution protocol in satellite-earth and intersatellite links," Int. J. Quantum Inf., vol. 16, no. 03, p. 1850027, Apr. 2018, doi:10.1142/S0219749918500272.
R. G. Sargent, "Verification and validation of simulation models," J. Simul., vol.7, no. 1, pp. 12–24, 2013, doi: 10.1057/jos.2012.20.
O. Balci, "Principles and techniques of simulation validation, verification, and testing," in Winter Simulation Conference Proceedings, 1995., 1995, pp. 147–154, doi:10.1109/WSC.1995.478717.
Jerry Banks, "Handbook of Simulation Principles, Methodolgy, Advances, Applications and Practice", JOHN WILLEY and SON inc., 1998.
G. Ribordy, J.-D. Gautier, N. Gisin, O. Guinnard, and H. Zbinden, "Fast and user-friendly quantum key distribution," J. Mod. Opt., vol. 47, no. 2–3, pp. 517–531, 2000, doi: 10.1080/09500340008244057.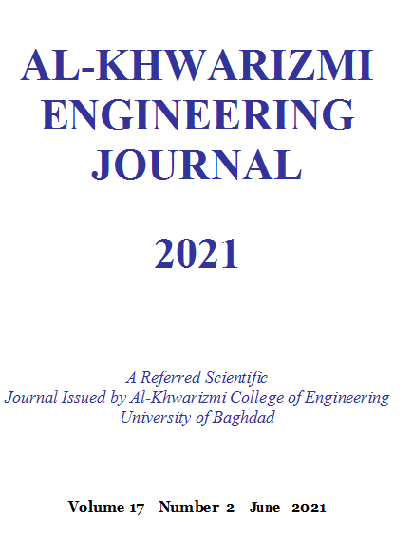 (Received 13 March 2021; Revised 13 April 2021; Accepted 16 April 2021)
How to Cite
Mushatet, A., & Tawfeeq, S. (2021). Modeling and Simulation for Performance Evaluation of Optical Quantum Channels in Quantum key Distribution Systems. Al-Khwarizmi Engineering Journal, 17(2), 31-44. https://doi.org/10.22153/kej.2021.05.001
Copyright: Open Access authors retain the copyrights of their papers, and all open access articles are distributed under the terms of the Creative Commons Attribution License, which permits unrestricted use, distribution and reproduction in any medium, provided that the original work is properly cited. The use of general descriptive names, trade names, trademarks, and so forth in this publication, even if not specifically identified, does not imply that these names are not protected by the relevant laws and regulations. While the advice and information in this journal are believed to be true and accurate on the date of its going to press, neither the authors, the editors, nor the publisher can accept any legal responsibility for any errors or omissions that may be made. The publisher makes no warranty, express or implied, with respect to the material contained herein.