Study the Effect of Welding Heat Input on the Microstructure, Hardness, and Impact Toughness of AISI 1015 Steel
Emad Kh. Hamd

Engineering college/ University of Anbar/ Iraq

Abbas Sh. Alwan

Agriculture College/ University of Baghdad/ Iraq

Ihsan Khalaf Irthiea

Engineering college/ University of Anbar/ Iraq
Abstract
In the present study, MIG welding is carried out on low carbon steel type (AISI 1015) by using electrode ER308L of 1.5mm diameter with direct current straight polarity (DCSP). The joint geometry is of a single V-butt joint with one pass welding stroke for different plate thicknesses of 6, 8, and 10 mm. In welding experiments, AISI 1015 plates with dimensions of 200×100mm and edge angle of 60o from both sides are utilized. In this work, three main parameters related to MIG welding process are investigated, which are welding current, welding speed, heat input and plate thickness, and to achieve that three groups of plates are employed each one consists of three plates. The results indicate that increasing the weld heat input (through changing the current and voltage) leads to an increase in widmanstatten ferrite (WF), acicular ferrite (AF) and polygonal ferrite (PF) in FZ region, and a reduction in grain size. It is observed that the micro-hardness of welded AISI 1015 plate increases as the weld heat input decreases. As well as increasing the weld heat input results in an increase in the width of WM and HAZ and a reduction in the impact energy of the weld joint of AISI 1015 at WM region. Also, it is noted the corrosion rate of weld joint increases with increase of Icorr due to increasing in welding current (heat input), corrosion rate increased up to (0.126µm/yr.) with increasing of heat input up to (1.27 KJ/mm).
Downloads
Download data is not yet available.
References
The Procedure Handbook of Arc Welding, 14th Edition, The James F. Lincoln Arc Welding, 2000.
Gourd LM, Principles of Welding Technology, 3rd Edition. Edward Arnold, 1995.
J. Beddoes & M. J. Bibby, "Principles of Metal Manufacturing Processes", Carleton University, Canada, 1999.
J. Puchaicela, "Control of Distortion of Welded Steel Structures", Welding Journal, pp.49-52, 1998.
Kim IS, Sona JS, Kim IG, Kim JY and Kim OS., "A study on relationship between process variables and bead penetration for robotic CO2 arc welding", J. Mater. Process. Technol. 136, pp. 139–145, 2003.
Han GuoMing, Yun ShaoHui, Cao XinHua, Li JunYue, "Acquisition and pattern recognition of spectrum information of welding metal transfer", J. Mater. & Design, 24, 699–703, 2003.
Welding Handbook Volume 4, "Metals and their Weldability", American Welding Society (ASM), Seventh.
Rechard S.Sabo,"The procedure Handbook of Arc welding ", the lincolin electric company, Cleveland, Ohio44117, Australia, 1999.
Zhang. W. and G.G.Roy, "Modeling of Heat Transfer and Fluid Flow During Gas Tungsten arc Spot Welding of Low Carbon Steel", Journal of Applied Physics, March , , Vol. 93, No. 5, 2003.
Ueji, R., Fujii, H., Cui, L., Nishiokioka, A., Kunishige, K. and Nogi, K., "Friction Stir Welding of Ultrafine Grained Plain Low-Carbon Steel Formed by the Martensite Process", Materials Science and Engineering: A, 423, 324- 330, 2006. http://dx.doi.org/10.1016/j.msea.2006.02.038
Easterling, K.E., "Modeling the Weld Thermal Cycle and Transformation Behavior in the Heat Affected Zone", In: Cerjak, H. and Easterling, K.E., Eds., Mathematical Modeling of Weld Phenomenon, The Institute of Materials, 1998.
Marashi, P., Pouranvari, M., Amirabdollahian, S. and Abedi, G., "Microstructure and Failure Behavior of Dissimilar Metal Spot Welds between Low Carbon Steel, Galvanized and Austenistic Stainless Steels. Materials Science and Engineering: A, 420, pp. 175-180, 2008. http://dx.doi.org/10.1016/j.msea.2007.07.007
G. R. Stewart, A. M. Elwazri, R. Varano, N. Pokuty-lowicz, S. Yue and J. J. Jonas, "Shear Punch Testing of Welded Pipeline Steel," Materials Science and Engineering A, Vol. 420, No. 1-2, , pp. 115-121, 2006.
S. Lars-Eric, "Control of Microstructures and Properties in Steel Arc Welds," Library of Congress Catalog-ing-in-Published Data, British, 1994.
A. Güral, B. Bostan and A. T. Özdemir, "Heat Treatment in Two Phase Region and its Effect on Welding of a Low Carbon Steel," Materials and Design, Vol.28, No. 3, pp. 897-903, 2007.
Gery, H., Long, P. and Maropoulos, E., "Effects of welding speed, energy input and heat source distribution on temperature variations in butt joint welding", Journal of Material Processing Technology, 167, pp 393-401, 2005. http://dx.doi.org/10.1016/j.jmatprotec.2005.06.018
David S.A, S.S.Babu, & J.M.Vitek,"Welding Solidification and Microstructure", Oak Ridge National Laboratory, Vol. 32, No. 3, 2003.
Odd M.Akselsen, Ragnhild and Vigdis Olden," Effect of Phase Transformations on Residual Stresses in Welding of Stainless Steel", International Journal of Offshore and Polar Engineering (ISSN 1053-5381), Vol. 17, No. 2, pp. 145–151, 2007.
Wan Shaiful Hasrizam Wan Muda, Nurul Syahida Mohd Nasir, Sarizam Mamat and Saifulnizan Jamian, "Effect of welding heat input on microstructure and mechanical properties at coarse grain heat affected zone of ABS grade a steel", ARPN Journal of Engineering and Applied Sciences, Vol. 10, No 20, pp. 9487- 9495, 2015.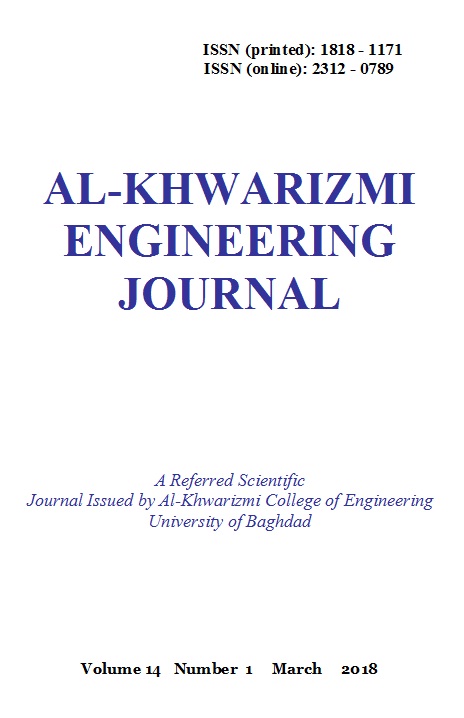 How to Cite
Hamd, E., Alwan, A., & Irthiea, I. (2018). Study the Effect of Welding Heat Input on the Microstructure, Hardness, and Impact Toughness of AISI 1015 Steel. Al-Khwarizmi Engineering Journal, 14(1), 118-127. Retrieved from https://alkej.uobaghdad.edu.iq/index.php/alkej/article/view/120
Copyright: Open Access authors retain the copyrights of their papers, and all open access articles are distributed under the terms of the Creative Commons Attribution License, which permits unrestricted use, distribution and reproduction in any medium, provided that the original work is properly cited. The use of general descriptive names, trade names, trademarks, and so forth in this publication, even if not specifically identified, does not imply that these names are not protected by the relevant laws and regulations. While the advice and information in this journal are believed to be true and accurate on the date of its going to press, neither the authors, the editors, nor the publisher can accept any legal responsibility for any errors or omissions that may be made. The publisher makes no warranty, express or implied, with respect to the material contained herein.