Inverse Kinematics Solution for Redundant Robot Manipulator using Combination of GA and NN
Abstract
A demonstration of the inverse kinematics is a very complex problem for redundant robot manipulator. This paper presents the solution of inverse kinematics for one of redundant robots manipulator (three link robot) by combing of two intelligent algorithms GA (Genetic Algorithm) and NN (Neural Network). The inputs are position and orientation of three link robot. These inputs are entering to Back Propagation Neural Network (BPNN). The weights of BPNN are optimized using continuous GA. The (Mean Square Error) MSE is also computed between the estimated and desired outputs of joint angles. In this paper, the fitness function in GA is proposed. The sinwave and circular for three link robot end effecter and desired trajectories are simulated by MATLAB program. Joint angles and end effecter positions of robot results values of circular trajectory are better than joint angles end effecter positions of robot results values of NN work in another paper. Three link redundant robot workspace is also simulated. The outputs results of best three joint angles are evaluated for two trajectories sinwave and circular, with 50 generations the algorithm is fast. This paper presents the simulations results that are obtained based on MATLAB R2010b program.  
Downloads
Download data is not yet available.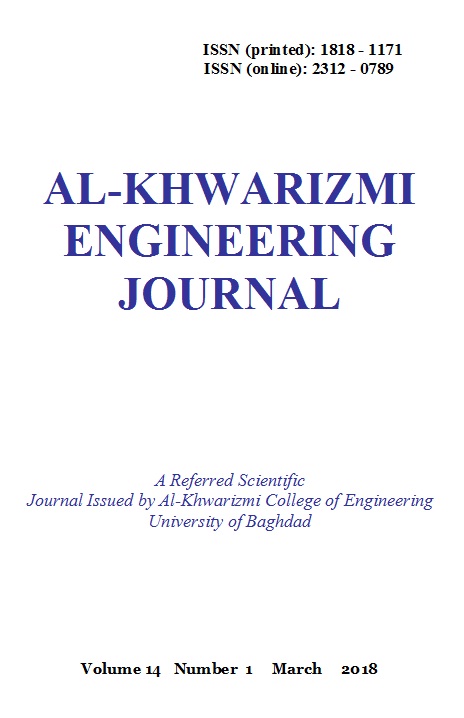 Downloads
How to Cite
Khaleel, H. Z. (2018). Inverse Kinematics Solution for Redundant Robot Manipulator using Combination of GA and NN. Al-Khwarizmi Engineering Journal, 14(1), 136–144. https://doi.org/10.22153/kej.2018.10.008
License
Copyright: Open Access authors retain the copyrights of their papers, and all open access articles are distributed under the terms of the Creative Commons Attribution License, which permits unrestricted use, distribution and reproduction in any medium, provided that the original work is properly cited. The use of general descriptive names, trade names, trademarks, and so forth in this publication, even if not specifically identified, does not imply that these names are not protected by the relevant laws and regulations. While the advice and information in this journal are believed to be true and accurate on the date of its going to press, neither the authors, the editors, nor the publisher can accept any legal responsibility for any errors or omissions that may be made. The publisher makes no warranty, express or implied, with respect to the material contained herein.