Energy Consumption Analyzing in Single hop Transmission and Multi-hop Transmission for using Wireless Sensor Networks
Ekhlas K. Hamza

Department of Control and Systems Engineering / University of Technology/ Baghdad

Heba H. Alhayani

Department of Control and Systems Engineering / University of Technology/ Baghdad
Abstract
Wireless sensor networks (WSNs) are emerging in various application like military, area monitoring, health monitoring, industry monitoring and many more. The challenges of the successful WSN application are the energy consumption problem. since the small, portable batteries integrated into the sensor chips cannot be re-charged easily from an economical point of view. This work focusses on prolonging the network lifetime of WSNs by reducing and balancing energy consumption during routing process from hop number point of view. In this paper, performance simulation was done between two types of protocols LEACH that uses single hop path and MODLEACH that uses multi hop path by using Intel Care i3 CPU (2.13GHz) laptop with MATLAB (R2014a). The simulation results showed how the multi-hop protocol was more energy efficient than single hop protocol.
Downloads
Download data is not yet available.
References
J. Wang, "Hop-based Energy Aware Routing Scheme for Wireless Sensor Networks",Ph.D. thesis , Kyung Hee University Seoul, Korea, February, 2010.
M . Hussain , R. H. Chowdhury , M. Hassan , M. A. Hossain ,S. Jahan and M. H. Rahman , " Performance Analysis of Various Modulation Schemes for Achieving Energy Efficient Communication over Fading Channel for Wireless Sensor Network " IOSR Journal of Electronics and Communication Engineering (IOSR-JECE), Vol. 11, Issue 1, PP. 97-100 , 2016.
J. N. Al-Karaki and A.E. Kamal, "Routing techniques in wireless sensor networks: a survey". IEEE wireless communications, Vol. 11, No. 6 ,pp. 6-28, 2004.
J. Wang, Y. Niu, J. Cho and S. Lee,
" Analysis of Energy Consumption in Direct Transmission and Multi-hop
Transmission for Wireless Sensor Networks ", Third International IEEE Conference on Signal-Image Technologies and Internet-Based System , IEEE , 2007.
M. Aslam, M. B. Rasheed, T. Shah, A. Rahim, Z. A. Khan, U. Qasim, M. W. Qasim, A. Hassan, A. Khan and N. Javaid ," Energy optimization and Performance Analysis of Cluster Based
Routing Protocols Extended from LEACH for WSNs", arXiv preprint arXiv:1309.4373, 2013.
P. K. Singh," Energy efficient clustered chain based power aware routing protocol for wireless sensor networks" , Master thesis , National Institute of Technology Rourkela , India , 2013 .
M. Ali and S. K. Ravula, " Real-time support and energy efficiency in wireless sensor networks " , Master Thesis , Halmstad University , Halmstad, Sweden, January, 2008.
S. Rani and S.H. Ahmed," Multi-hop routing in wireless sensor networks: An overview, taxonomy, and research challenges"., Springer ,2015.
Jain, T. "Wireless environmental monitoring system (WEMS) using data aggregation in a bidirectional hybrid protocol." in International Conference on Information Systems, Technology and Management, Springer, 2012.
P. Kumar, A. Chaturvedi, and M. Kulkarni, "Geographical location based hierarchical routing strategy for wireless sensor networks". in Devices, Circuits and Systems (ICDCS), 2012 International Conference on,IEEE, 2012.
W.B. Heinzelman, A.P. Chandrakasan, and H. Balakrishnan, "An application specific protocol architecture for wireless microsensor networks", IEEE Transactions on wirelesscommunications,Vol.1,No.4,PP.660-670 , 2002 .
D. Verma, R. Jain, and A. Shrivastava, "Performance Analysis of LEACH and LEACH-CC Routing Protocol in Wireless Sensor Network" . IUP Journal of Telecommunications ,Vol.8 , No.3 PP.45, 2016.
L. An, A. Li , L. Pang and G. He, " Analyss and Comparison of Routing Protocol of Wireless Sensor Network", International Journal of Online Engineering,Vol.12 ,No.10 , 2016.
D. Mahmood, N. Javaid, S. Mahmood, S. Qureshi, A. M. Memon and T. Zaman , " MODLEACH: a variant of LEACH for WSNs ", in Broadband and Wireless Computing, Communication and Applications (BWCCA), 2013 Eighth International Conference on.,IEEE ,2013.
W.R., Heinzelman, A. Chandrakasan, and H. Balakrishnan," Energy-efficient communication protocol for wireless microsensor networks", in System sciences, 2000. Proceedings of the 33rd annual Hawaii international conference on,IEEE , 2000.
A.K. Singh, S. Rajoriya, S. Nikhil, and T. K. Jain," Design constraint in single-hop and multi-hop wireless sensor network using different network model architecture", in Computing, Communication & Automation (ICCCA), 2015 International Conference on. 2015. IEEE.
I.F. Akyildiz and M.C. Vuran, "Wireless sensor networks", John Wiley & Sons Vol. 4. 2010.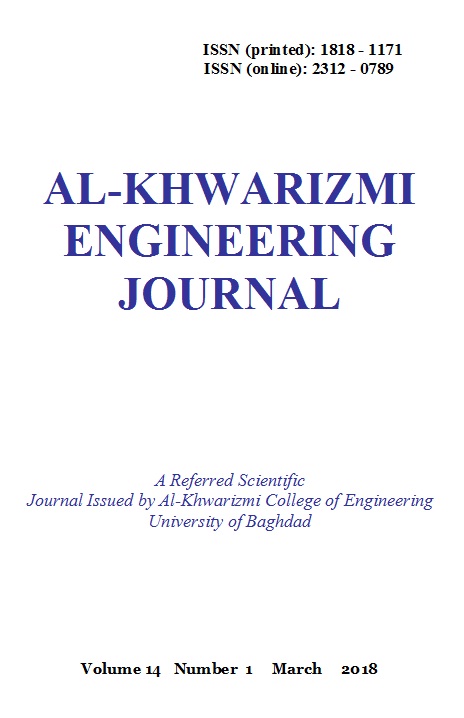 How to Cite
Hamza, E., & Alhayani, H. (2018). Energy Consumption Analyzing in Single hop Transmission and Multi-hop Transmission for using Wireless Sensor Networks. Al-Khwarizmi Engineering Journal, 14(1), 156-163. https://doi.org/10.22153/kej.2018.10.009
Copyright: Open Access authors retain the copyrights of their papers, and all open access articles are distributed under the terms of the Creative Commons Attribution License, which permits unrestricted use, distribution and reproduction in any medium, provided that the original work is properly cited. The use of general descriptive names, trade names, trademarks, and so forth in this publication, even if not specifically identified, does not imply that these names are not protected by the relevant laws and regulations. While the advice and information in this journal are believed to be true and accurate on the date of its going to press, neither the authors, the editors, nor the publisher can accept any legal responsibility for any errors or omissions that may be made. The publisher makes no warranty, express or implied, with respect to the material contained herein.