Improvement of Microhardness and Corrosion Resistance of Stainless Steel by Nanocomposite Coating
Hamid S. Mahdi

Department of Automated Manufacturing Engineering / Alkhwarzmi College of Engineering/ University of Baghdad

Kareem Neamah Sallomi

Department of Automated Manufacturing Engineering / Alkhwarzmi College of Engineering/ University of Baghdad

Hiba Husam Ismail

Department of Automated Manufacturing Engineering / Alkhwarzmi College of Engineering/ University of Baghdad
Keywords:
Keywords: Stainless Steel, Nanocomposite Coating, Electroco-Deposition ECD, Microhardness, Corrosion Resistance, and Potentialastic Polarization.
Abstract
Abstract
Stainless steel (AISI 304) has good electrical and thermal conductivities, good corrosion resistance at ambient temperature, apart from these it is cheap and abundantly available; but has good mechanical properties such as hardness. To improve the  hardness and corrosion resistance of stainless steel its surface can be modified by developing nanocomposite coatings applied on its surface. The main objective of this paper is to study effect of electroco-deposition method on microhardness and corrosion resistance of stainless steel, and to analyze effect of nanoparticles (Al2O3, ZrO2 , and SiC)  on properties of composite coatings. In this paper employed Electroco-deposition process to develop a composite coating with (Ni) matrix and Ceramic oxide particles: Al2O3 (135nm), ZrO2 (40nm), and SiC (80nm) as reinforcements. The coatings were developed with 10 g/L, and 20 g/L concentrations in bath, at four different current densities (0.5, 1, 2, 3 A/dm2) using Watts bath to study the effect of current density and particle concentration in bath, on structure and properties of the coatings developed. The surface morphology of nanocomposite coating was characterized by Scanning Electron Microscopy (SEM). The hardness of the nanocoating was carried out using Digital Vickers  microhardness tester. The corrosion resistance property of nanocomposite coating was carried out in 3.5% NaCl solution used Open circuit potential (OCP) and potentialastic polarization. The results showed the nanocomposites coating have a smooth and compact surface and have higher hardness than the uncoated stainless steel (2.3 times), and also found that the nanocomposite coating improves the corrosion resistance significantly (89.25%).
Downloads
Download data is not yet available.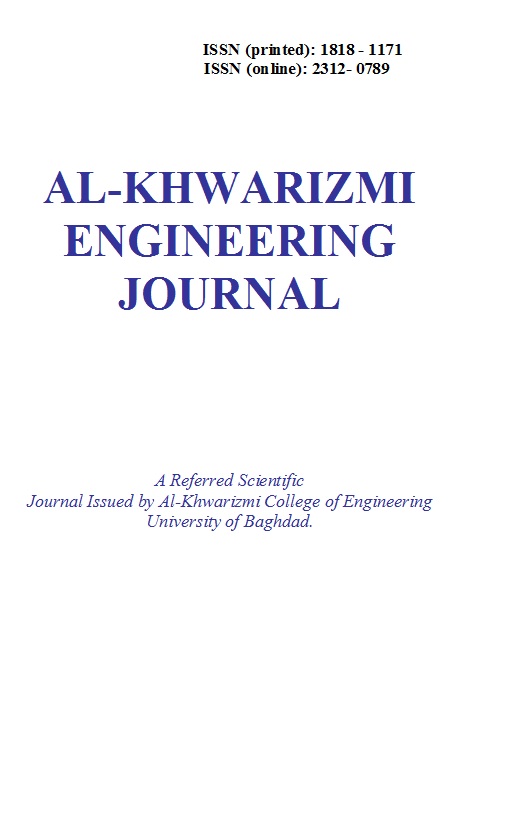 How to Cite
Mahdi, H., Sallomi, K., & Ismail, H. (2017). Improvement of Microhardness and Corrosion Resistance of Stainless Steel by Nanocomposite Coating. Al-Khwarizmi Engineering Journal, 10(4), 1-10. Retrieved from https://alkej.uobaghdad.edu.iq/index.php/alkej/article/view/201
Copyright: Open Access authors retain the copyrights of their papers, and all open access articles are distributed under the terms of the Creative Commons Attribution License, which permits unrestricted use, distribution and reproduction in any medium, provided that the original work is properly cited. The use of general descriptive names, trade names, trademarks, and so forth in this publication, even if not specifically identified, does not imply that these names are not protected by the relevant laws and regulations. While the advice and information in this journal are believed to be true and accurate on the date of its going to press, neither the authors, the editors, nor the publisher can accept any legal responsibility for any errors or omissions that may be made. The publisher makes no warranty, express or implied, with respect to the material contained herein.