Design a Vegetative Filter Strips Length Using VFSMOD_W Model for Reducing Sediments and Pesticides
Hayat Kareem Shukur

Department of Civil Engineering/ Collage of Engineering / University of Al-Mustansiryah

Dawood E. Sachit

Department of Environmental Engineering/ Collage of Engineering / University of Al-Mustansiryah
Keywords:
Models ,runoff, sediment, vegetative filter strip, , water quality, watershed planning.
Abstract
 Abstract 
The vegetative filter strips (VFS) are a useful tool used for reducing the movement of sediment and pesticide in therivers. The filter strip's soil can help in reducing the runoff volume by infiltration. However, the characteristics of VFS (i.e., length) are not recently identified depending on the estimation of VFS modeling performance. The aim of this research is to study these characteristics and determine acorrelation between filter strip length and percent reduction (trapping efficiency) for sediment, water, and pesticide. Two proposed pesticides(one has organic carbon sorption coefficient, Koc, of 147 L/kg which is more moveable than XXXX, and another one has a Koc of 2070 L/kg which is less moveable than XXXX) are presented, where the goal is to prevent 95% of incoming sediment and 85% of the incoming pesticide to reach a receiving stream in still water, Oklahoma from a cultivated field (1250 m²),for 2 hour storm with 5 years return period. Several VFS lengths were simulated including1, 3, 5, 6, 9, 11, 12, and 13 m. The results showed that the percent of reduction of sediment, pesticide, and water mainly depends on VFS lengths. Moreover, considering the design storms range, the simulation illustrated that the optimal filter length was13m for silty clay loam. When the value of   was increased from 147 L/kg to 6070 L/kg, the filter length decreased from 13 to 9.5 because of the increase in trapping efficiency. In addition, the results revealed that the trap­ping efficiency was for sediment but not for water orpesticide which was highly impacted by the narrow filter strips. The amount of the rainfall and runoff of the designated field was larger than the infiltration capacity of filter strips, which resulted in low trapping efficiency for pesticide and water.
Keywords: Models ,runoff, sediment, vegetative filter strip, , water quality, watershed planning.
Downloads
Download data is not yet available.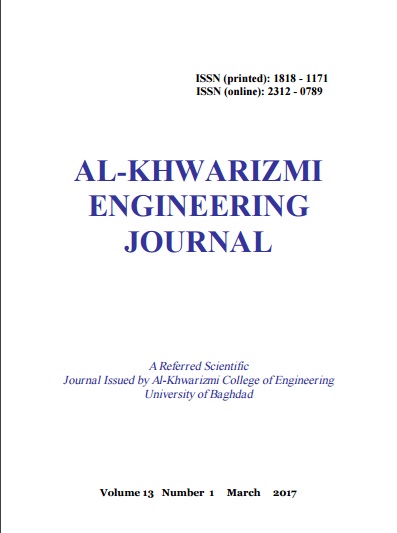 How to Cite
Shukur, H., & Sachit, D. (2017). Design a Vegetative Filter Strips Length Using VFSMOD_W Model for Reducing Sediments and Pesticides. Al-Khwarizmi Engineering Journal, 13(2). https://doi.org/10.22153/kej.2017.01.005
Copyright: Open Access authors retain the copyrights of their papers, and all open access articles are distributed under the terms of the Creative Commons Attribution License, which permits unrestricted use, distribution and reproduction in any medium, provided that the original work is properly cited. The use of general descriptive names, trade names, trademarks, and so forth in this publication, even if not specifically identified, does not imply that these names are not protected by the relevant laws and regulations. While the advice and information in this journal are believed to be true and accurate on the date of its going to press, neither the authors, the editors, nor the publisher can accept any legal responsibility for any errors or omissions that may be made. The publisher makes no warranty, express or implied, with respect to the material contained herein.