Enhancing the Compressive Strength and Density of Cement Mortar by the Addition of Different Alignments of Glass Fibers and Styrene Butadiene Rubber
Mustafa M. Hamza

Department of Materials Engineering /Mustansiriya University

Besma M. Fahad

Department of Materials Engineering /Mustansiriya University
Keywords:
Random glass fibers , Glass fibers layers, SBR, compressive strength, density.
Abstract
Abstract In the field of construction materials the glass reinforced mortar and Styrene Butadiene mortar are modern composite materials. This study experimentally investigated the effect of addition of randomly dispersed glass fibers and layered glass fibers on density and compressive strength of mortar with and without the presence of Styrene Butadiene Rubber (SBR). Mixtures of 1:2 cement/sand ratio and 0.5 water/cement ratio were prepared for making mortar. The glass fibers were added by two manners, layers and random with weight percentages of (0.54, 0.76, 1.1 and 1.42). The specimens were divided into two series: glass-fiber reinforced mortar without SBR and glass-fiber reinforced mortar with 7% SBR of mixture water. All specimens were tested after curing for 7 and 28 days, glass-fiber reinforced mortar exhibited better properties than control mortar in improvement of compressive strength and lowering the density after curing for 28 days due to the completion of cement hydration reaction.. For compressive strength the best results were achieved with 1.42 wt.% layers glass-fiber reinforced mortar with 7% SBR which gave 41.56 MPa. On the other hand, the addition of 1.42 wt.% random glass-fiber without SBR addition caused the beast reduction in density by 10.6% and produced lighter structure than control sample.
Keywords: Random glass fibers , Glass fibers layers, SBR, compressive strength, density.
Downloads
Download data is not yet available.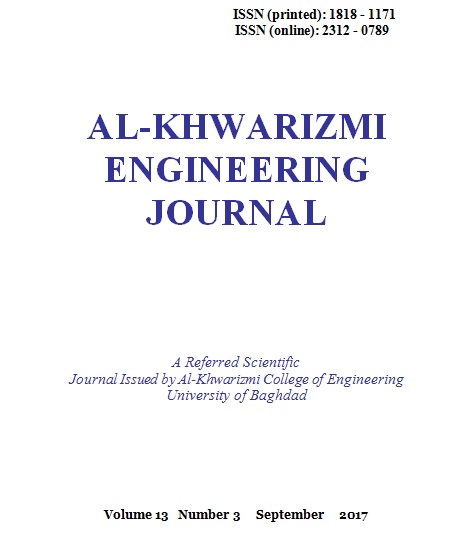 How to Cite
Hamza, M., & Fahad, B. (2017). Enhancing the Compressive Strength and Density of Cement Mortar by the Addition of Different Alignments of Glass Fibers and Styrene Butadiene Rubber. Al-Khwarizmi Engineering Journal, 13(3), 108-119. https://doi.org/10.22153/kej.2017.02.005
Copyright: Open Access authors retain the copyrights of their papers, and all open access articles are distributed under the terms of the Creative Commons Attribution License, which permits unrestricted use, distribution and reproduction in any medium, provided that the original work is properly cited. The use of general descriptive names, trade names, trademarks, and so forth in this publication, even if not specifically identified, does not imply that these names are not protected by the relevant laws and regulations. While the advice and information in this journal are believed to be true and accurate on the date of its going to press, neither the authors, the editors, nor the publisher can accept any legal responsibility for any errors or omissions that may be made. The publisher makes no warranty, express or implied, with respect to the material contained herein.