Study the Factors Effecting on Welding Joint of Dissimilar Metals
Abdul wahab H. Khuder

Department of Welding Engineering/ Technical College Baghdad

Esam J. Ebraheam

Department of Welding Engineering/ Technical College Baghdad
Abstract
The aim of this work is to study the factors that affect the welding joint of dissimilar metals. Austenitic stainless steel-type AISI (316L) with a thickness of (2mm) was welded to carbon steel (1mm) using an MIG spot welding.  The filler metal is a welding wire of the type E80S-G (according to AWS) is used with (1.2mm) diameter and CO2 is used as shielding gas with flow rate (7L/min) for all times was used in this work.
        The results indicate that the increase of the welding current tends to increase the size of spot weld, and also increases the sheer force.  Whereas the sheer force increased inversely with the time of welding. Furthermore, the results indicate that increasing the current and time of welding increases the diameter of weld zone, and decreases the sheer force.
Downloads
Download data is not yet available.
References
[1] Stuart W. Gibson, Gerted "Advance Welding" Macmillan an press LTD, 1997.
[2] Donald R. Askeland & Pradeep P. Phule "The Science and Engineering of Materials",Thomson Brooks/Cole,2004.
[3] A.S.Gibson,"Advanced Welding", Macmillan Press LTD, 1997.
[4] HB.Cary,''Modren Welding Technology'', 5th Edition, Prentice-Gall, 2002.
[5] American Welding Society, "Specification for Carbon Steel Electrodes for Shielded Metal Arc Welding", American Welding Society, Inc.1999.
[6] Specimen diamensions ,"Welding in the world", vol. 18, 1980, pp. 39-40.
[7] Sindo Kou "Welding Metallurgy" 2nd Edition, John Niley &Sons.Inc, 2003.
[8] Thomas Bollinghaus, ''Hot Cracking Phenomena in Weld'', Spring verlag, Berlin Heidelberg, 2005.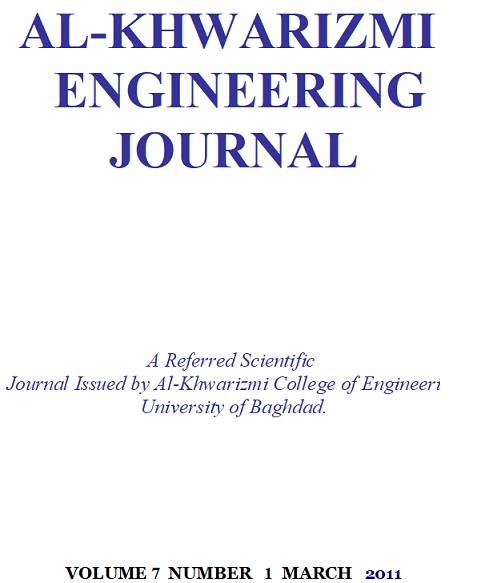 How to Cite
Khuder, A. wahab, & Ebraheam, E. (2019). Study the Factors Effecting on Welding Joint of Dissimilar Metals. Al-Khwarizmi Engineering Journal, 7(1), 76-81. Retrieved from https://alkej.uobaghdad.edu.iq/index.php/alkej/article/view/471
Copyright: Open Access authors retain the copyrights of their papers, and all open access articles are distributed under the terms of the Creative Commons Attribution License, which permits unrestricted use, distribution and reproduction in any medium, provided that the original work is properly cited. The use of general descriptive names, trade names, trademarks, and so forth in this publication, even if not specifically identified, does not imply that these names are not protected by the relevant laws and regulations. While the advice and information in this journal are believed to be true and accurate on the date of its going to press, neither the authors, the editors, nor the publisher can accept any legal responsibility for any errors or omissions that may be made. The publisher makes no warranty, express or implied, with respect to the material contained herein.