Correcting Working Postures in Water Pump Assembly Tasks using the OVAKO Work Analysis System (OWAS)
Abstract
Ovako Working Postures Analyzing System (OWAS) is a widely used method for studying awkward working postures in workplaces. This study with OWAS, analyzed working postures for manual material handling of laminations at stacking workstation for water pump assembly line in Electrical Industrial Company (EICO) / Baghdad. A computer program, WinOWAS, was used for the study. In real life workstation was found that more than 26% of the working postures observed were classified as either AC2 (slightly harmful), AC3 (distinctly harmful). Postures that needed to be corrected soon (AC3) and corresponding tasks, were identified. The most stressful tasks observed were grasping, handling, and positioning of the laminations from workers. The construction of real life workstation is modified simultaneously by redesign suggestions in the values of location (positioning) factors for stacking workstation. The simulation workstation executed by mean of parametric CAD software. That modifications lead to improvement in the percentage of harmful postures. It was therefore recommended the use of supplementary methods is required to identify ergonomic risk factors for handling work or other hand-intensive activities on industry sites. 
Downloads
Download data is not yet available.
References
[1] Ayoub, M. M., "Problems and solutions in manual materials handling", the state of the art. Ergonomics, 35, 713–728, (1992).
[2] Ayoub, M.M., & Mital, A., "Manual materials handling", London, Taylor & Francis, (1989).
[3] Chaffin, D.B., & Andersson, G.B.J., "Occupational biomechanics (2d Ed.)", New York: John Wiley & Sons, (1991).
[4] Chaffin, D.B., "Computerized biomechanical models for high exertion manual jobs", In Proceedings of the 3rd Pan-Pacific Conference on Occupational Ergonomics (pp. 1–15). Seoul, Korea, (1994).
[5] Lee, I., Kee, D., Chung, M.K., & Kim, S. H. A., "Postural Workload Evaluation System Based on a Macro-postural Classification", Human Factors and Ergonomics in Manufacturing, Vol. 12 (3) 267–277, (2002).
[6] De Joode, B., Verspuy, C., Burdorf, and A., "Physical workload in ship maintenance: Using the Observer to solve ergonomics problems. Noldus Information Technology", Erasmus University Rotterdam, Rotterdam, the Netherlands, (2004).
[7] Lang, A., "The Correlation between Biomechanical Loads and Psychophysical Ratings", MS thesis, Department of Industrial and Systems Engineering, Virginia Polytechnic Institute and State University, Blacksburg, VA, (2000).
[8] Waters, Thomas R., et al, "Revised NIOSH Equation for the Design and Evaluation of Manual Lifting Tasks", Ergonomics, v 36 (7), pp. 749-776, (1993).
[9] Honaker, Ronald E., "Assessing Trailer Handling Tasks: Biomechanical Modeling, Posture Categorization, Physiological Measures, and Subjective Measure", Department of Industrial and Systems Engineering, Virginia Polytechnic Institute and State University, Blacksburg, Virginia, (1996).
[10] Pinder, Andrew, DJ., "Benchmarking of the Manual Handling assessment Charts (MAC) ", Health and Safety Laboratory, Broad Lane, Sheffield, UK. Electronic filename: \\ganu\ergonomics\adjp\emm\benchmarking\benchmark report.lwp, (2002).
[11] 11- Gilkey, D., Keefe, T., Bigelow, P., Herron, R., Duvall, K., Hautaluoma, J., Sesek, R., "Occupational low back pain in residential carpenters: OWAS categories and forces of compression and shear", Denver Metro area of Colorado, Colorado, (1998).
[12] 12-Tampere university technology, occupational and safety Engineering, "WinOWAS: A Computerized System for the Analysis of Work Postures", July 12, From the World Wide Web: http://turva.me.tut.fi/owas/,Tampere, Finland, (2003).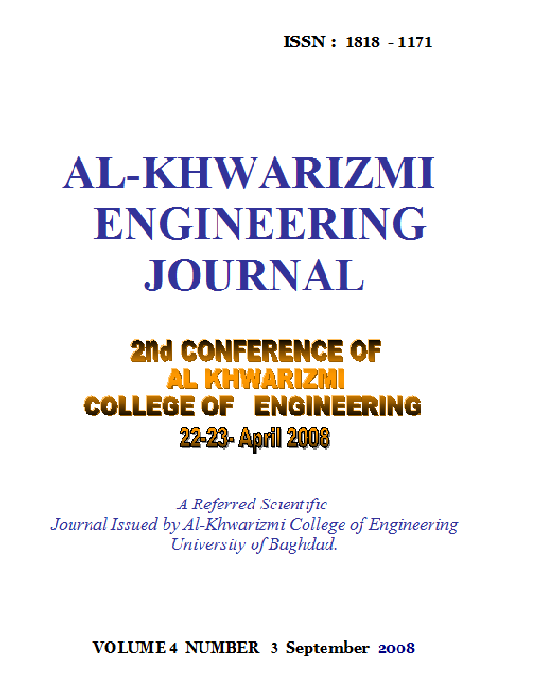 Downloads
How to Cite
Ketan, H. S., & Al-Zuheri, A. K. (2008). Correcting Working Postures in Water Pump Assembly Tasks using the OVAKO Work Analysis System (OWAS). Al-Khwarizmi Engineering Journal, 4(3), 8–17. Retrieved from https://alkej.uobaghdad.edu.iq/index.php/alkej/article/view/589
License
Copyright: Open Access authors retain the copyrights of their papers, and all open access articles are distributed under the terms of the Creative Commons Attribution License, which permits unrestricted use, distribution and reproduction in any medium, provided that the original work is properly cited. The use of general descriptive names, trade names, trademarks, and so forth in this publication, even if not specifically identified, does not imply that these names are not protected by the relevant laws and regulations. While the advice and information in this journal are believed to be true and accurate on the date of its going to press, neither the authors, the editors, nor the publisher can accept any legal responsibility for any errors or omissions that may be made. The publisher makes no warranty, express or implied, with respect to the material contained herein.