Creating Through Points in Linear Function with Parabolic Blends Path by Optimization Method
Saad Zaghlul Saeed Al-khayyt

Department of Mechatronics / College of Engineering/ Mosul University/ Iraq
Abstract
The linear segment with parabolic blend (LSPB) trajectory deviates from the specified waypoints. It is restricted to that the acceleration must be sufficiently high. In this work, it is proposed to engage modified LSPB trajectory with particle swarm optimization (PSO) so as to create through points on the trajectory. The assumption of normal LSPB method that parabolic part is centered in time around waypoints is replaced by proposed coefficients for calculating the time duration of the linear part. These coefficients are functions of velocities between through points. The velocities are obtained by PSO so as to force the LSPB trajectory passing exactly through the specified path points. Also, relations for velocity correction and exact velocity solution are derived. Simulation results show that the engagement of modified LSPB trajectory with PSO to work well on the tested cases. This proposed method is very simple which can be used for on-line path planning, and not necessarily to use high acceleration magnitude.
Downloads
Download data is not yet available.
References
Ellekilde, L. P. and Petersen, H. G. (2013). Motion planning efficient trajectories for industrial bin-picking. International Journal of Robotics Research, 32(9-10): 991-1004.
Craige, J. J. (2005). Introduction to robotics: mechanics and control. New Jersey. Person Prentice-Hell, Inc.
Siciliano, B., Sciavicco, L., Villani, L. and Oriolo, G. (2009). Robotics: modelling, planning and control. London. Springer-Verlag: pp.168.
Ata, A. A. and Sa'adah, M. Y. (2006). December 8. Soft motion trajectory for planar redundant manipulator. 9th International Conference on Control, Automation, Robotics and Vision. Singapore.
Xianhua, L., Shili, T., Xiaowei, F. and Hailiang, R. (2009). December 19-20. LSPB Trajectory planning: design for the modular robot arm applications. IEEE International Conference on Information Engineering and Computer Science. Wuhan. DOI: 10.1109 / ICIECS. 2009.5365861:1-4.
Kunz, T. and Stilman, M. (2011). Turning paths into trajectories using parabolic blends. GT-GOLEM-2011-006. Georgia Institute of Technology.
Kunz, T. and Stilman, M. (2012). Time-optimal trajectory generation for path following with bounded acceleration and velocity. Proceedings of Robotics: Science and Systems. Sydney, Austria. DOI: 10.15607 / RSS.2012.VIII.027: 9-13.
Rymansaib, Z., Iravani, P. and Sahinkaya, M.N. (2013). July 9-12. Exponential trajectory generation for point to point motions. IEEE/ASME International Conference on Advanced Intelligent Mechatronics, Wollongong-Australia, pp.906-911.
Rossi, C. and Savino, S. (2013). Robot trajectory planning by assigning positions and tangential velocities. ELSEVER: Robotics and Computer-Integrated Manufacturing. 29: 139-156.
Kröger, T. and Wahl, F. M. (2010). Online trajectory generation: basic concepts for instantaneous reactions to unforeseen events. IEEE Transactions on Robotics, 6(1): 94-111.
Kröger, T. (2012). May 14-18. On-line trajectory generation: Nonconstant motion constraints. International Conference on Robotics and Automation, River Center, Saint Paul, Minnesota, USA. DOI: 10.1109 / ICRA. 2012.6225186: 2048-2054.
Thompson, B. and Yoon, H.-S. (2014). Efficient Path Planning Algorithm for Additive Manufacturing Systems. IEEE Transactions on components, packaging and manufacturing technology, 4(9): 1555-1563, DOI: 10.1109/TCPMT.2014.2338791
Weber, W., König, A., Nodem, D. X., Darmstadt, H. (2016). June 21 – 22, 2016. User-defined transition between path segments in terms of tolerances in speed and position deviation. Proceedings of ISR 2016, 47st International Symposium on Robotics, Munich-Germany, pp.187-193.
Masehian, E. and Sedighizadeh, D. (2010). Multi-objective PSO- and NPSO-based algorithms for robot path planning. Advances in Electrical and Computer Engineering, 10(4): 69-76.
Bailón1, W. P., Cardiel1, E. B., Campos, I. J. and Paz1, A. R. (2010). September 8-10. Mechanical energy optimization in trajectory planning for six dof robot manipulators based on eighth-degree polynomial functions and a genetic algorithm. 7th International Conference on Electrical Engineering, Computing Science and Automatic Control. México: 446 – 451.
Gong, D., Lu, L. and Li, M. (2009). May 18-21. Robot path planning in uncertain environments based on particle swarm optimization. IEEE Congress on Evolutionary Computation. Trondheim. DOI:10.1109/CEC.2009.4983204: 2127-2134.
Pedersen, M. E. H. and Chipperfield, A. J. (2010). Simplifying particle swarm optimization. Applied Soft Computing, 10(2): 618-628.
Rao, S. S. (2009). Engineering optimization theory and practice. New Jersey. John Wiley & Sons, Inc.: 4th Edition, pp. 708.
Chavan, S.D. and Adgokar, N.P. (2015). An overview on particle swarm optimization: basic concepts and modified variants. International Journal of Science and Research, 4(5): 255-260.
Alfi, A. (2012). Particle swarm optimization algorithm with dynamic inertia weight for on-line parameter identification applied to Lorenz chaotic system. International Journal of Innovative Computing, Information and Control, 8(2):1191-1203.
Djoewahir, A., Kanya, T. and Shenglin, M. (2012). A modified particle swarm optimization with nonlinear decreasing inertia weight based PID controller for ultrasonic motor. International Journal of Innovation and Technology, 3(3): 198-201.
Tian, D. (2013). A Review of convergence analysis of particle swarm optimization, International Journal of Grid and Distributed Computing, 6(6): 117-128.
Malwiya, R. and Rai, V. (2015). Optimal speed controlling of induction motor using new PSO. International Journal of Advanced Technology & Engineering Research, 5(2): 39-43.
Ibrahim, N.M.A., Atti, H.E.M., Talaat, H.E.A. and Alaboudy, A.H. K. (2015). Modified particle swarm optimization based proportional-derivative power system stabilizer. International Journal of Intelligent Systems and Applications. DOI: 10.5815 / ijisa. 2015. 03.08: 62-76.
Bansal, J.C., Singh, P. K., Saraswat, M., Verma, A., Jadon, S. S. and Abraham, A. (2011). October 19-21. Inertia weight strategies in particle swarm optimization. IEEE 3rd World Congress on Nature and Biologically Inspired Computing. Salamanca. DOI: 10.1109 / NaBIC. 2011. 6089659: 633-640.
Yang, C. H., Tsai, S. W., Chuang, L. Y. and Yang, C. H. (2011). A modified particle swarm optimization for global optimization. International Journal of Advancements in Computing Technology, 3(7): 169-189.
Elsayed, S. M., Sarker, R. A. and Montes, E. M. (2013). June 20-23. Particle swarm optimizer for constrained optimization. IEEE Congress on Evolutionary Computation. Cancun-Mexico. DOI: 10.1109/CEC.2013.6557896: 2703-2711.
Ratanavilisagul, C. and Kruatrachue, B. (2014). A modified particle swarm optimization with mutation and reposition. International Journal of Innovative Computing, Information and Control, 10(6): 2127-2142.
Tian, D. (2015). Particle swarm optimization with chaotic maps and Gaussian mutation for function optimization. International Journal of Grid and Distributed Computing, 8(4): 123-134.
Jamous, R.A., Tharwat, A.A., EL-Seidy, E. and Bayoum, B.I. (2015). Modifications of particle swarm optimization techniques and its application on stock market: A survey. International Journal of Advanced Computer Science and Applications, 6(3): 99-108.
Li, J., Cheng, Y., and Chen, K. (2014). May 31-June 2. Chaotic Particle swarm optimization algorithm based on adaptive inertia weight. 26th Chinese Control and Decision Conference. Changsha. DOI: 10.1109 /CCDC. 2014. 6852369: 1310-1315.
Al-khayyt, S. Z. S., M. A. Abdilatef, Z. M. Yosif (2016). Visual tracking enhancement of object on circular path based on tuned kalman filter by particle swarm optimization. International Journal of Computer Applications. 146(4): 43-50.
Al-khayyt, S. Z. S. (2013). Tuning PID controller by neural network for robot manipulator trajectory tracking. Al-Khwarizmi Engineering Journal, 8(2): 19-28.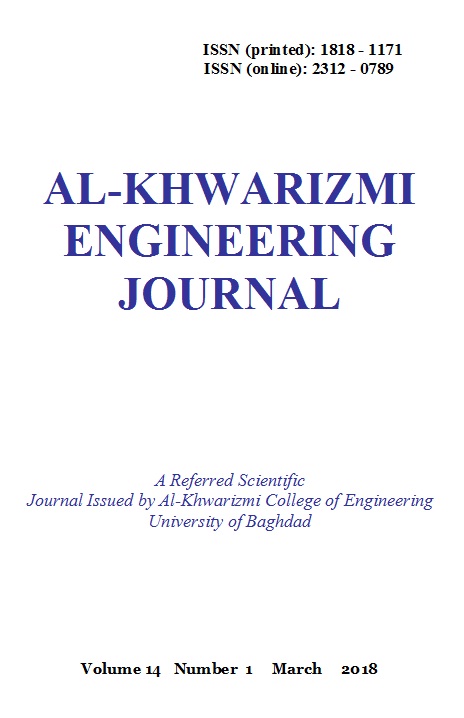 How to Cite
Saeed Al-khayyt, S. (2018). Creating Through Points in Linear Function with Parabolic Blends Path by Optimization Method. Al-Khwarizmi Engineering Journal, 14(1), 77-89. https://doi.org/10.22153/kej.2018.10.005
Copyright: Open Access authors retain the copyrights of their papers, and all open access articles are distributed under the terms of the Creative Commons Attribution License, which permits unrestricted use, distribution and reproduction in any medium, provided that the original work is properly cited. The use of general descriptive names, trade names, trademarks, and so forth in this publication, even if not specifically identified, does not imply that these names are not protected by the relevant laws and regulations. While the advice and information in this journal are believed to be true and accurate on the date of its going to press, neither the authors, the editors, nor the publisher can accept any legal responsibility for any errors or omissions that may be made. The publisher makes no warranty, express or implied, with respect to the material contained herein.