Sculptured Surface Design and Implementation by Lofting Design Method Using Cross-sectional B-Spline Curves
Wisam Kadhum Hamdan

Department of Production Engineering and Metallurgy / University of Technology

Mustafa Mohammed Abdulrazaq

Department of Production Engineering and Metallurgy / University of Technology
Abstract
This research presents a particular designing strategy for a free form of surfaces, constructed by the lofting design method. The regarded surfaces were created by sliding a B-spline curves (profile curves), in addition to describing an automatic procedure for selective identification of sampling points in reverse engineering applications using Coordinate Measurement Machine. Two models have been implemented from (Ureol material) to represent the different cases of B-spline types to clarify its scope of application. The interior data of the desired surfaces was designed by MATLAB software, which then were transformed to UG-NX9 software for connecting the sections that were designed in MATLAB program and obtaining G-code programs for the models In addition, a virtual machining process was simulated to show the machining pitfalls, using VERICUT software.  The samples were machined using 3-axis vertical CNC machine (Isel) type.
 Finally, the samples were measured using Faro arm (CMM inspection) and it was found that the average of errors was equal to (0.0589 mm) for the cross-sectional uniform B-spline model, and (0.1337 mm) for the lofted non-uniform B-spline model. It can be concluded that the whole steps task which built in the present research can be programmed in a single block of the part program where any surface at minimum designing time can be created from it.
Downloads
Download data is not yet available.
References
R. J. Yan, J. Wu, J. Y. Lee, C.-S Han" A novel method for 3D reconstruction: Division and merging of overlapping B-spline surfaces, Computer-Aided Design, 2016 .
Sotiris, Andreas C., "A CNC machine tool interpolator for surfaces of cross-sectional design", Robotics and Computer-Integrated Manufacturing, 2006.
H. Park, H. B. Jung, K. Kim "A new approach for lofted B-spline surface interpolation to serial contours" Int J Adv Manufacturing Technology 2004.
K. R. Koch "Identity of simultaneous estimates of control points and of their estimates by the lofting method for NURBS surface fitting" The International Journal of Advanced Manufacturing Technology, 2009.
H. Park, "An Approximate Lofting Approach for B-Spline Surface Fitting to Functional Surfaces" Int J Adv Manufacturing Technology 2001.
Ken Yano & Koichi Harada "Reconstruction of B-spline skinning surface from generalized cylinder mesh" The Visual Computer, Volume 26, No. 1, 2010.
D. Auger, Q. Wang, J. Trevelyan, S. Huang & Wei Zhao "Investigating the Quality Inspection Process of Offshore Wind Turbine Blades Using B-Spline Surfaces" Measurement, 2017.
Y. Zhang, J. Cao, Z. Chen, X. Li & X. Zeng," B-spline surface fitting with knot position optimization", Computers & Graphics, 2016.
Y. Yamaura, T. Nanya, H.Imoto & T. Maekawa," Shape reconstruction from a normal map in terms of uniform bi-quadratic B-spline surfaces", Computers & Graphics, 2015.
Y. Zhang, J. Cao, Z. Chen, X. Li & X. Zeng," B-Spline Curve Fitting with Invasive Weed Optimization", Applied Mathematical Modelling, 2017.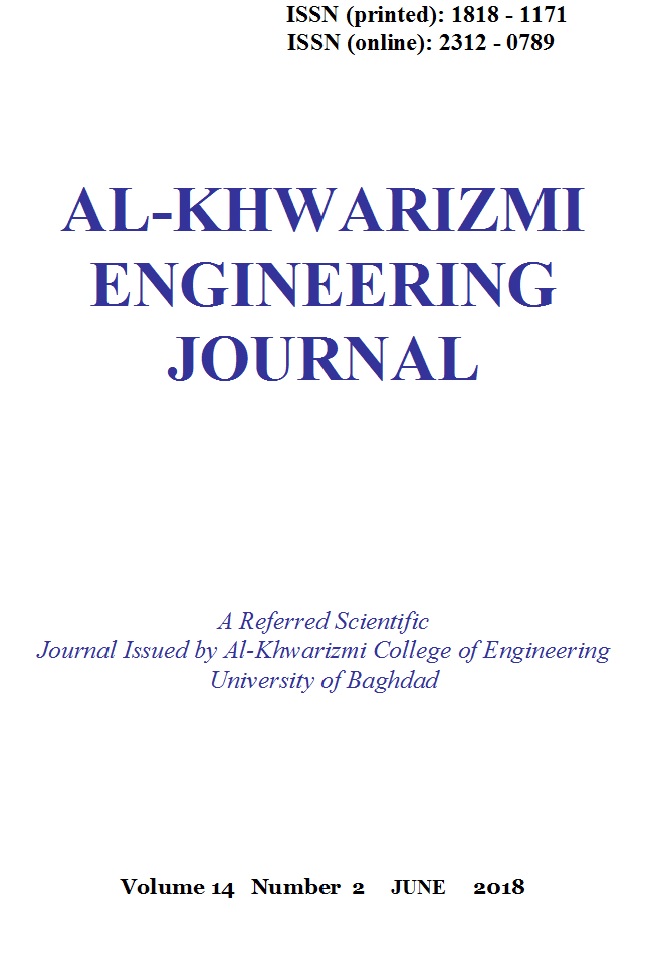 How to Cite
Hamdan, W., & Abdulrazaq, M. (2019). Sculptured Surface Design and Implementation by Lofting Design Method Using Cross-sectional B-Spline Curves. Al-Khwarizmi Engineering Journal, 14(2), 92- 82. https://doi.org/10.22153/kej.2018.11.004
Copyright: Open Access authors retain the copyrights of their papers, and all open access articles are distributed under the terms of the Creative Commons Attribution License, which permits unrestricted use, distribution and reproduction in any medium, provided that the original work is properly cited. The use of general descriptive names, trade names, trademarks, and so forth in this publication, even if not specifically identified, does not imply that these names are not protected by the relevant laws and regulations. While the advice and information in this journal are believed to be true and accurate on the date of its going to press, neither the authors, the editors, nor the publisher can accept any legal responsibility for any errors or omissions that may be made. The publisher makes no warranty, express or implied, with respect to the material contained herein.