Experimental Evaluation and Finite Element Simulation to Produce Square Cup by Deep Drawing Process
Karem Muhsin Younis

Department of Production Engineering and Metallurgy Engineering/ University of Technology

Adil Shbeeb Jabber

Department of Production Engineering and Metallurgy Engineering/ University of Technology

Mustafa Mohammed Abdulrazaq

Department of Production Engineering and Metallurgy Engineering/ University of Technology
Abstract
Deep drawing process to produce square cup is very complex process due to a lot of process parameters which control on this process, therefore associated with it many of defects such as earing, wrinkling and fracture. Study of the effect of some process parameters to determine the values of these parameters which give the best result, the distributions for the thickness and depths of the cup were used to estimate the effect of the parameters on the cup numerically, in addition to experimental verification just to the conditions which give the best numerical predictions in order to reduce the time, efforts and costs for producing square cup with less defects experimentally is the aim of this study. The numerical analysis is used to study the effect of some parameters such as die profile radius, radial clearance between die and punch, blank diameter on the length and thickness  distributions on the cup, dynamic-explicit (ANSYS11) code based on finite element method is utilized to simulate the square deep drawing operation. Experiments were done for comparison and verification the numerical predictions. effective square cup with less defects and acceptable thickness distributions were produced in this study. It is concluded  the most thinning appear in the corner cup due to excessive stretching occur in this region and also it is found the cup thickness and height prediction by numerical analysis and in general in harmony with experimental analysis.
Downloads
Download data is not yet available.
References
Pradipkumar N. Patil, K.H. Inamdar," A Review on Deep Drawing of Rectangular Shaped Parts ", Asian Journal of Convergence in Technology, Volume II, Issue III, Issn No.:2350-1146, I.F-2.71,(2014).
J. S. Colton," sheet metal forming", manufacturing processes and engineering, Georgia institute of technology, version 1, 2009.
K. Lange (Ed.), Handbook of Metal Forming, McGraw-Hill, New York, 1985.
F. Ayari, T. lazghab, E. Bayraktar," parametric finite element analysis of square deep drawing", Archives of computational materials science and surface engineering, volume 1, issue 2, (2009).
Erkan, O., Erman Tekkaya,. A." Numerical simulation of various cross sectional workpieces using conventional deep drawing and hydroforming technologies", International Journal of Machine Tools & Manufacture 48, 532–542, 2008.
Halil Uibranhim demirci, Cemal esner, Mustafa yaser, " effect of the blank holder force on drawing of aluminum alloy square cup: theoretical and experimental analysis", jouneral of materials processing technology 206, 152-160, (2008).
Karem. M. younis, Makie. J. Abd-Rasul" Effect of die and punch corner radii in the deep drawing on fracture of square cup ",M.SC thesis, Department of Production Engineering and Metallurgy, University of Technological, (2013) .
Mohsen Hassan, Labib Hezam, Mohamed El-Sebaie, Judha Purbolaksono, " Deep drawing characteristics of square cups through conical dies ", Procedia Engineering 81 (2014 ) 873 – 880.
U Pranavi, Perumalla Janaki Ramulu, Ch Chandramouli, Dasari Govardhan, PVS.Ram Prasad, " Formability analysis of aluminum alloys through deep drawing process", Materials Science and Engineering, IOP Conf. Series: Materials Science and Engineering 149 (2016) 012025.
B. Sener, H. Kurtaran," Modeling the deep drawing of an AISI 304 stainless-steel rectangular cup using the finite element method and an experimental validation", Materials and technology 50 (2016) 6, 961–965.
H. Vairavan, A.B. Abdullah," Die-punch alignment and its effect on the thinning pattern in the square-shaped deep drawing of aluminum alloy" International Journal of Materials and Product Technology 54(1/2/3):147 . January 2017.
E. Ünal, C. Özek, " A study on the wall thickness in the angular deep drawing process", Materials Testing, Vol. 59, No. 2, pp. 178-182,2017.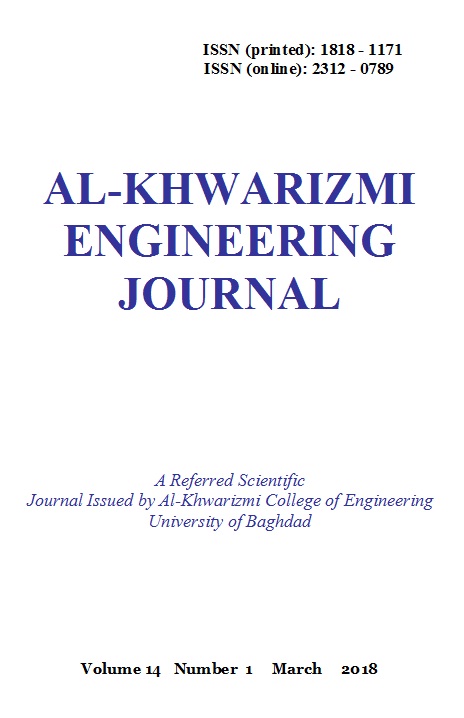 How to Cite
Younis, K., Jabber, A., & Abdulrazaq, M. (2018). Experimental Evaluation and Finite Element Simulation to Produce Square Cup by Deep Drawing Process. Al-Khwarizmi Engineering Journal, 14(1), 39-52. https://doi.org/10.22153/kej.2018.10.002
Copyright: Open Access authors retain the copyrights of their papers, and all open access articles are distributed under the terms of the Creative Commons Attribution License, which permits unrestricted use, distribution and reproduction in any medium, provided that the original work is properly cited. The use of general descriptive names, trade names, trademarks, and so forth in this publication, even if not specifically identified, does not imply that these names are not protected by the relevant laws and regulations. While the advice and information in this journal are believed to be true and accurate on the date of its going to press, neither the authors, the editors, nor the publisher can accept any legal responsibility for any errors or omissions that may be made. The publisher makes no warranty, express or implied, with respect to the material contained herein.