Experimental and Finite Elements Analysis Study of Warming Effect on Deboned Force for Embedded NiTinol Wire into Linear Low Density Polyethylene
Samir Ali Amin

Department of Mechanical Engineering/ University of Technology

Ali Yasser Hassan

Department of Mechanical Engineering/ University of Technology
Keywords:
Activation, Composite Material, Finite Element Modeling, NiTinol Wire, Pull-Out Test, Shape Memory Alloy.
Abstract
This study presents the debonding propagation in single NiTi wire shape memory alloy into linear low-density polyethylene matrix composite the study of using the pull-out test. The aim of this study is to investigate the pull-out tests to check the interfacial strength of the polymer composite in two cases, with activation NiTinol wire and without activation. In this study, shape memory alloy NiTinol wire 2 mm diameter and linear fully annealed straight shape were used. The study involved experimental and finite element analysis and eventually comparison between them. This pull-out test is considered a substantial test because its results have a relation with behavior of smart composite materials. The pull-out test was carried out by a universal tensile test machine type (Laryee), load capacity (50 kN), and a test speed of 1mm/min. The finite elements modeling was performed by ANSYS V.15. The results of pull-out test showed that in the activation of NiTinol wire embedded in host matrix linear low-density polyethylene (LLDPE), the deboned force was about 74 N, but for the case without activation, it was about 106 N. Deboned shear stress for the case with activation was about 0.73 MPa, but for the case of without activation, it was about 1.05 MPa. ANSYS result for deboned shear stress in case with activation was about 0.8 MPa. As for the case of without activation, deboned shear stress was about 0.99 MPa. The activation of the ratio of deboned shear stress and deboned force decreased by 30.47% and 30.13%, respectively. The error ratio between experimental and ANSYS results was equal to 8% for the case with activation and 5.7% for the case without activation. 
Downloads
Download data is not yet available.
References
Zhou, L.-M., Kim, J.-K., Mai and Y.-W., Interfacial debonding and fiber pull-out stresses. Part II a new model based on the fracture mechanics approach, J. Mater. Sci., 27 (1992) 3155-3166.
Zhou, L.-M., Mai, Y.-W. and Baillie, C., Interfacial debonding and fiber pull-out stresses. Part V A methodology for evaluation of interfacial properties, J. Mater. Sci., 29 (1994) 5541-5550.
Jonnalagadda K, Kline G and Sottos N. Local displacements and load transfer in shape memory alloy composites. Exp. Mech 1997; 37(1):78-86.
N.A. Smitha, G. G. Antounb, A. B. Ellisa, and W.C. Cronec. "Improved adhesion between nickel–titanium shape memory alloy and a polymer matrix via silane coupling agents", Composites: Part A 35 (2004) 1307–1312.
Sadrnezhaad S, Nemati N and Bagheri R. Improved adhesion of NiTi wire to silicone matrix for smart composite medical applications. Mater Design 2009; 30(9):3667-72.
Xiaoling Wang and Gengkai Hu," Stress transfer for a SMA fiber pulled out from an elastic matrix and related bridging effect", Composites: Part A 36 (2005) 1142–1151.
Wambura Mwiryenyi Wita,"Development and Testing an Intelligent Hybrid Polymeric Composite Beam With Healing Ability Embedded with NiTinol Shape Memory Alloy Embedded with Ni-Ti Shape Memory Alloy", MSc Thesis, Cape Peninsula University of Technology , Faculty of Engineering, Department of Mechanical Engineering, December (2010).
Payandeh Y, Meraghni F, Patoor E, and Eberhardt A. Study of the martensitic transformation in NiTi-epoxy smart composite and its effect on the overall behavior. Mater Design 2012; 39:104-10.
Mattia Merlin, Martina Scoponi, Chiara Soffritti, Annalisa Fortini, Raffaella Rizzoni and Gian Luca Garagnani.," On the improved adhesion of NiTi wires embedded in Polyester and Vinylester resins", M. Merlin et alii, Fracture ed Integrate Structural, 31 (2015) 127-137; DOI: 10.3221/IGF-ESIS.31.10.
C. S. Cai, Wenjie Wu, Suren Chen, and George Voyiadjis," Applications of Smart Materials in Structural Engineering", Department of Civil Engineering, Louisiana State University, State Project No. 736-99-1055, October 2003.
F. Calkins, J. Mabe, R. and Ruggeri," Overview of Boeing's shape memory alloy based morphing aerostructures", Proceedings of SMASIS08: ASME Conference on Smart Materials, Adaptive Structures and Intelligent Systems, October 28–30, 2008, Ellicott City, MD (2008).
Ali Sadiq Yasser," The Effect of Fiber Pre-Tension on the Static and Dynamic Behavior of Composite Plates", PhD thesis, Machines and Equipment Engineering Departments, University of Technology, (2001).
William F. Smith and Javad Hashmi, Hand-book, "Foundations of Materials Science and Engendering ", Fourth edition (2006). 1088 pages, McGraw-Hill Education.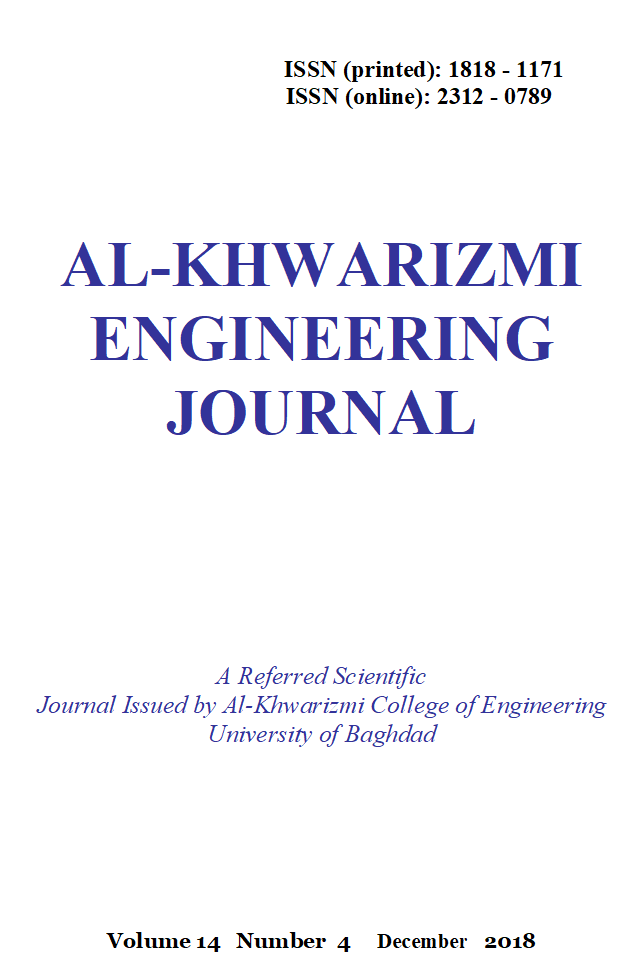 How to Cite
Amin, S., & Hassan, A. (2018). Experimental and Finite Elements Analysis Study of Warming Effect on Deboned Force for Embedded NiTinol Wire into Linear Low Density Polyethylene. Al-Khwarizmi Engineering Journal, 14(4), 1-8. https://doi.org/10.22153/kej.2018.03.005
Copyright: Open Access authors retain the copyrights of their papers, and all open access articles are distributed under the terms of the Creative Commons Attribution License, which permits unrestricted use, distribution and reproduction in any medium, provided that the original work is properly cited. The use of general descriptive names, trade names, trademarks, and so forth in this publication, even if not specifically identified, does not imply that these names are not protected by the relevant laws and regulations. While the advice and information in this journal are believed to be true and accurate on the date of its going to press, neither the authors, the editors, nor the publisher can accept any legal responsibility for any errors or omissions that may be made. The publisher makes no warranty, express or implied, with respect to the material contained herein.