Evaluation and Improvement of Manufacturing System Using Computer Software Arena
Kawthar A. Mohammed Hasan

Department of Automated Manufacturing Engineering/ Al-Khwarizmi Engineering College/ University of Baghdad/ Iraq

Ali H. Kadhum

Department of Automated Manufacturing Engineering/ Al-Khwarizmi Engineering College/ University of Baghdad/ Iraq

Ameer H. Morad

Department of Information and Communication Engineering / Al-Khwarizmi Engineering College/ University of Baghdad/ Iraq
Abstract
The main purpose of the paper is to identify the controllability of an existing production system; yogurt production line in Abu Ghraib Dairy Factory which has several machines of food processing and packing that has been studied. Through the starting of analysis, instability in production has been found in the factory. The analysis is built depending on experimental observation and data collection for different processing time of the machines, and statistical analysis has been conducted to model the production system. Arena Software is applied for simulating and analyzing the current state of the production system, and results are expanded to improve the system production and efficiency. Research method is applied to contribute in knowing and expecting the future running of the system to enhance the controllability of the system production and improve the production system and machine efficiency. Moreover, built an experiment-real model in Arena in order to control the system in term of production and process. First step is to collect the statistical data required for analysis in terms of input and output data for analysis. Second, is to track the production problem in term of process bottleneck in order to improve the utilization of the system. Third is to validate the model in order to overcome the product demand of the system uncontrollability. Through the result analysis of waiting time and production rate, it is clearly shown that system is stable with a need to resetting the capacity as a chance for the improvement, regarding to resources utilization. Re-planning resources capacity positively enhances the production and profitability of the system.
Downloads
Download data is not yet available.
References
M. Bruqi, R. Likaj, J. Kacani, and A. Gjukaj, "Modeling and simulation of flexible system for electrical machine assembling", International research/expert Conference, Dubai, UAE, 10-12 September 2012.
Wilson R. Nyembaa and Charles Mbohwab, "Modelling, simulation and optimization of the materials flow of a multi-product assembling plant", Procedia Manufacturing Journal, Vol. 8, Pages 59-66, 2017.
R. Mathur, D. Shringi, A. K. Verma, "Facility layout optimization using simulation: a case study of a steel utensils industry", Vol. 3, Issue 3, March 2016.
M. S. Eryilmaza, A. O. Kusakcib, H. Gavranovicc, F. Findikd, " Analysis of shoe manufacturing factory by simulation of production processes", Southeast Europe Journal of Soft Computing, Vol.1, No.1, March 2012.
R. P. Nithin, S. Gopikrishnan, A. Sumesh, " A case study on Simulation and Design optimization to improve Productivity in cooling tower manufacturing industry", Journal of IOP Conference Series: Materials Science and Engineering, Vol. 310, conference 1, 2018.
J. A. Lopez, C.I. Lopez, J.E. Olguin, C. Camargo, and J. M. Lopez, "Surgery scheduling using simulation with arena", International Journal of Medical, Health, Biomedical, Bioengineering and Pharmaceutical Engineering Vol.7, No.7, 2013.
Bruce J. Neubauer and Shelley K. Stewart, "Introduction of government process modeling with rockwell arena software", Journal of Public Affairs Education. Vol.15, No.3, 2009.
R. Mathur, D. Shringi, A. K. Verma, " Facility layout optimization using simulation: a case study of a steel utensils industry", International Journal of Advance Engineering and Research Development Vol. 3, Issue 3, March 2016.
Faisal KP, Falah Ummer, Hareesh K C, Munavir Ayaniyat, Nijab K, Nikesh P, Jibi R," Analysis and Simulation of Crankshaft Manufacturing Unit Using Arena", International Journal of Scientific and Research Publications, Vol. 5, Issue 2, February 2015.
Manivel Muralidaran V., Sandeep, " Layout planning in a pump manufacturing industry using ARENA", International Journal of Scientific & Engineering Research, Vol. 5, Issue 5, May 2014.
Stopper, M. & Stuja, K.," Optimizing cycle time of a flexible manufacturing cell using simulation software", 4th International DAAAM Conference, Tallinn, Estonia, 29 - 30th April 2004.
Muhammad Marsudi, Hani Shafeek, " The evaluation of production line performance by using ARENA – A case study", International Journal of Industrial and Manufacturing Engineering, Vol.7, No.9, 2013.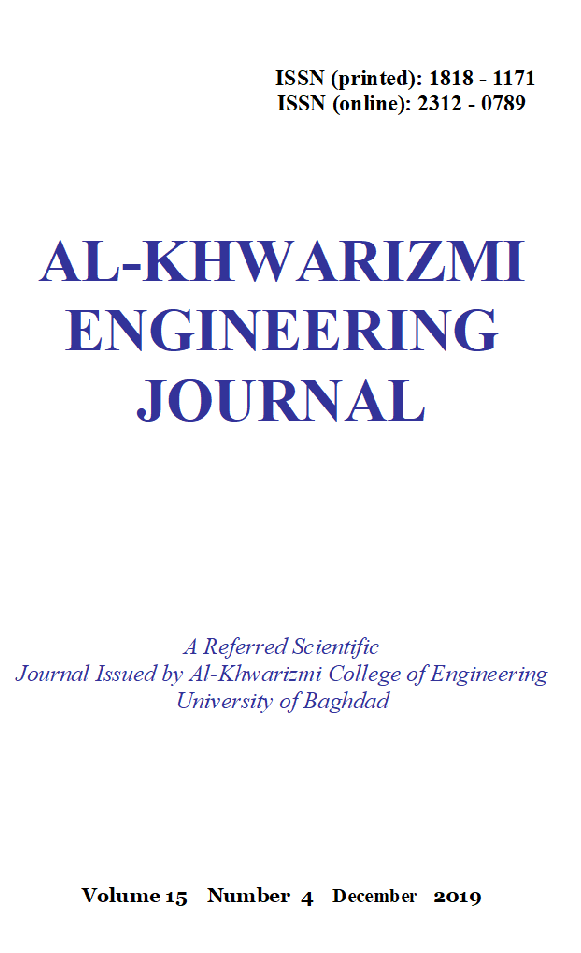 How to Cite
Mohammed Hasan, K., Kadhum, A., & Morad, A. (2019). Evaluation and Improvement of Manufacturing System Using Computer Software Arena. Al-Khwarizmi Engineering Journal, 15(4), 71-78. https://doi.org/10.22153/kej.2019.10.003
Copyright: Open Access authors retain the copyrights of their papers, and all open access articles are distributed under the terms of the Creative Commons Attribution License, which permits unrestricted use, distribution and reproduction in any medium, provided that the original work is properly cited. The use of general descriptive names, trade names, trademarks, and so forth in this publication, even if not specifically identified, does not imply that these names are not protected by the relevant laws and regulations. While the advice and information in this journal are believed to be true and accurate on the date of its going to press, neither the authors, the editors, nor the publisher can accept any legal responsibility for any errors or omissions that may be made. The publisher makes no warranty, express or implied, with respect to the material contained herein.