Studying the Mechanical Properties of Denture Base Materials Fabricated from Polymer Composite Materials
Jawad Kadhim Oleiwi

Department of Materials Engineering / University of Technology

Qahtan Adnan Hamad

Department of Materials Engineering / University of Technology
Keywords:
Compression Test, Lignin, Nano-ZrO2, Hardness Test, Impact Test, Particles, PMMA, Tensile Test.
Abstract
In this research, the effect of adding two different types of reinforcing particles was investigated, which included: nano-zirconia (nano-ZrO2) particles and micro-lignin particles that were added with different volume fractions of 0.5%, 1%, 1.5% and 2% on the mechanical properties of polymer composite materials. They were prepared in this research, as a complete prosthesis and partial denture base materials was prepared, by using cold cure poly methyl methacrylate (PMMA) resin matrix. The composite specimens in this research consist of two groups according to the types of reinforced particles, were prepared by using casting methods, type (Hand Lay-Up) method. The first group consists of PMMA resin reinforced by (nano-ZrO2) particles, while the second group consists of PMMA resin reinforced by (micro-lignin) particles.
The mechanical tests performed in this research includedtensile test, compression test, impact test and hardness test. The results of this study showed that the values of tensile modulus of elasticity, compressive strength and hardness properties increased with increasing the volume fraction of these particles in PMMA composite materials. While, the values of tensile strength, elongation and impact strength properties decreased. Also, the addition of (nano-ZrO2) particles showed greater effect than that of (micro-lignin) particles in some properties of PMMA composite materials for prosthesis denture base materials specimens, while they have lower effect for the other properties.
Downloads
Download data is not yet available.
References
S. Ramakrishna, J. Mayer, E. Wintermantel, K.W. Leong, "Biomedical Applications of Polymer-Composite Materials: A Review", Composites Science and Technology, Vol. (61), pp. (1189- 1224), (2001).
M.E. Tuttle, "Structural Analysis of Polymeric Composite Materials", Marcel Dekker, Inc., (2004).
[3] K. J. Anusavice, "Phillips' Science of Dental Materials", 11th ed., W. B. Saunders Co., St. Louis., pp. (145-737), (2008).
M. J. Mustafa, "Evaluation of Candida Albicans Attachment to Flexible Denture Base Materials and Heat Cure Acrylic Resin Using Different Finishing and Polishing Techniques", M.Sc. Thesis, University of Baghdad, College of Dentistry, Iraq, (2011).
J. J. Manappallil, "Basic Dental Materials", 2nd ed., New Delhi, Ch 8, Ch 20, pp. (99-142), (346-377), (2007).
G. Uzun and N. Hersek, "Comparison of the Fracture Resistance of Six Denture Base Acrylic Resin", Bio. Appl. Journal, Vol. (17), pp. (19-29), (2002).
W. J. O' Brain, "Dental Materials and Their Selection", 3rd ed., School of Dentistry, University of Michigan, (2002).
Thielemans et. al., "Novel Application of Lignin in Composite Materials", Appli. Poly. Sci. Journal., Vol. (83), pp. (323-331), (2002).
S. O. Koutayas, T. Vagkopoulou, S. Pelekanos, P. Koidis & J. R. Strub, "Zirconia in Dentistry: Part 2. Evidence-based Clinical Breakthrough", Eur. Jour. Esthet. Dent., Vol. (4), No. (4), pp. (348-380), (2009).
Annual Book of ASTM Standard, "Standard Test Method for Tensile Properties of Plastics D 638-03", Vol. (08.01), pp. (1-12), (2003).
Annual Book of ASTM Standard, "Standard Test Method for Compressive Properties of Rigid Plastics D 695-02a ", pp. (1-8), (2002).
Annual Book of ISO Standard, "Standard Test Method for Unnotched Izod Impact Testing of Plastics, ISO-180", pp. (1-2), (2006).
Annual Book of ASTM Standard, "Standard Test Method for Plastics Properties-Durometer Hardness, D 2240-03", pp. (1-12), (2003).
S. I. Salih, J. K. Oleiwi and Q. A. Hamad, "Numerically and Theoretically Studying of the Upper Composite Complete Prosthetic Denture", Eng. & Tech. Journal, Part (A), Vol. (33), No. (5), pp. (1023-1037), (2015).
S. I. Salih, J. K. Oleiwi and Q. A. Hamad, "Studying the Tensile Properties and Morphology Test for the Self Cured PMMA Resin of Prosthetic Complete Denture", The Iraqi Journal For Mechanical And Material Engineering, Part (II), Vol. (special), pp. (508-522), (2015).
S. M. Elie., "Study of Mechanical Properties and Thermal Conductivity for Polymer Composite Material Reinforced by Aluminum and Aluminum Oxide Particles", M.Sc. Thesis, University of Technology, Baghdad, Iraq, (2007).
S. I. Salih, J. K. Oleiwi and Q. A. Hamad, "Investigation of Fatigue and Compression Strength for the PMMA Reinforced by Different System for Denture Applications", International Journal of Biomedical Materials Research, Vol. (3), No. (1), pp. (5-13), (2015).
S. I. Salih, J. K. Oleiwi and Q. A. Hamad, "Comparative Study The Flexural Properties And Impact Strength For Pmma Reinforced by Particles And Fibers For Prosthetic Complete Denture Base", the Iraqi Journal for Mechanical and Material Engineering, Vol. (15), No. (4), pp. (288-307), (2015).
W. Bolten, "Engineering Materials Technology", 3rd ed., Butterworth & Heinemann publishing, Ltd., (1998).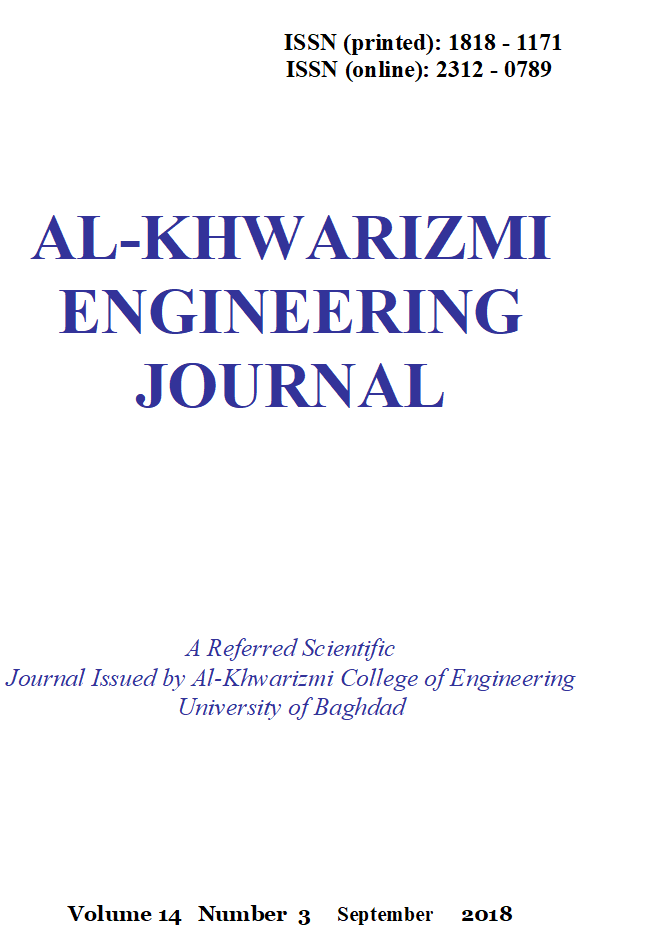 How to Cite
Oleiwi, J., & Hamad, Q. (2018). Studying the Mechanical Properties of Denture Base Materials Fabricated from Polymer Composite Materials. Al-Khwarizmi Engineering Journal, 14(3), 100- 111. https://doi.org/10.22153/kej.2018.01.006
Copyright: Open Access authors retain the copyrights of their papers, and all open access articles are distributed under the terms of the Creative Commons Attribution License, which permits unrestricted use, distribution and reproduction in any medium, provided that the original work is properly cited. The use of general descriptive names, trade names, trademarks, and so forth in this publication, even if not specifically identified, does not imply that these names are not protected by the relevant laws and regulations. While the advice and information in this journal are believed to be true and accurate on the date of its going to press, neither the authors, the editors, nor the publisher can accept any legal responsibility for any errors or omissions that may be made. The publisher makes no warranty, express or implied, with respect to the material contained herein.