Preparation of Light Fuel Fractions from Heavy Vacuum Gas Oil by Thermal Cracking Reaction
Saleem Mohammed Obyed

Department of Chemical Engineering/ Collage of Engineering / Al-Nahrain University
Keywords:
light fuel, thermal cracking, heavy vacuum, gas oil
Abstract
This work deals with thermal cracking of heavy vacuum gas oil which produced from the top of vacuum distillation unit at Al- DURA refinery, by continuous process. An experimental laboratory plant scale was constructed in laboratories of chemical engineering department, Al-Nahrain University and Baghdad University. The thermal cracking process was carried out at temperature ranges between 460-560oC and atmospheric pressure with liquid hourly space velocity (LHSV) equal to 15hr-1.The liquid product from thermal cracking unit was distilled by atmospheric distillation device according to ASTM D-86 in order to achieve two fractions, below 220oC as a gasoline fraction and above 220oC as light cycle oil (LCO).The first fraction which was below 220oC was fractionated to light fractions (gasoline, kerosene and gas oil) by atmospheric distillation device. The fractions (gasoline, kerosene and gas oil) were distilled by atmospheric distillation device in order to obtained distillation curve for these fractions. Physical properties were recorded for these cuts to compare it with standard property test, in order to studying the possibilities of industrial uses. The maximum conversion of heavy vacuum gas oil was obtained by this process equal to 82 wt. % of feed at 540oC.
Downloads
Download data is not yet available.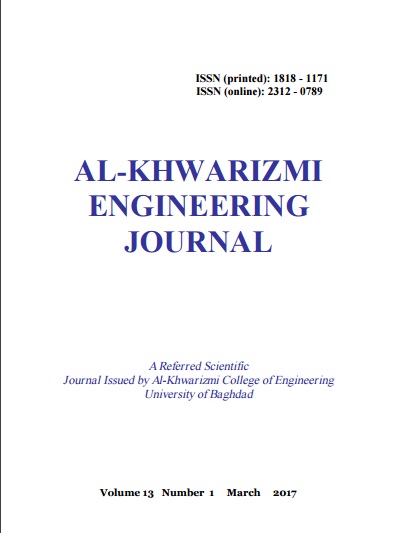 How to Cite
Obyed, S. (2017). Preparation of Light Fuel Fractions from Heavy Vacuum Gas Oil by Thermal Cracking Reaction. Al-Khwarizmi Engineering Journal, 13(1), 103- 109. https://doi.org/10.22153/kej.2017.11.003
Copyright: Open Access authors retain the copyrights of their papers, and all open access articles are distributed under the terms of the Creative Commons Attribution License, which permits unrestricted use, distribution and reproduction in any medium, provided that the original work is properly cited. The use of general descriptive names, trade names, trademarks, and so forth in this publication, even if not specifically identified, does not imply that these names are not protected by the relevant laws and regulations. While the advice and information in this journal are believed to be true and accurate on the date of its going to press, neither the authors, the editors, nor the publisher can accept any legal responsibility for any errors or omissions that may be made. The publisher makes no warranty, express or implied, with respect to the material contained herein.