Study the Effect of Cutting Parameters on Temperature Distribution and Tool Life During Turning Stainless Steel 316L
Ahmed A. Akbar

Department of Production Engineering and Metallurgy Engineering/ University of Technology

Raed R. Shwaish

Department of Production Engineering and Metallurgy Engineering/ University of Technology

Naba D. Hadi

Department of Production Engineering and Metallurgy Engineering/ University of Technology
Keywords:
Cutting parameters, Finite difference method, Stainless steel 316L, Temperature distribution, Tool life, Turning operation.
Abstract
This paper is focused on studying the effect of cutting parameters (spindle speed, feed and depth of cut) on the response (temperature and tool life) during turning process. The inserts used in this study are carbide inserts coated with TiAlN (Titanum, Aluminium and Nitride) for machining a shaft of stainless steel 316L. Finite difference method was used to find the temperature distribution. The experimental results were done using infrared camera while the simulation process was performed using Matlab software package. The results showed that the  maximum difference between the experimental and simulation results was equal to 19.3 , so, a good agreement between the experimental and simulation results  was achieved. Tool life was decreased when spindle speed and feed were increased.
Downloads
Download data is not yet available.
References
T. D. Marusich, M. Ortiz, "Modeling and Simulation of High - Speed Machining", International Journal Numerical Methmatical Engineering, vol. 38, 1995, Pp. 3675-3694.
Boothroyd, G., "Fundamentals of Metal Machining and Machine Tools" International Student Edition, Mc Graw Hill International Book Company Tokyo, 1981, Pp.109.
A. Bhattacharyya, I. Ham, "Design of Cutting Tool Use a Metal Cutting Theory, 1st edition, astme p. committee, 1969, Pp. 347.
M. Bartoszuk, W. Grzesik, P. Neslony, "Finite Difference Method-Based Simulation of Temperature Fields For Application To Orthogonal Cutting", International Journal of Machining Science and Technology, vol.9, issue 4, 2005, Pp. 529-546.
V. Astakhov, "Effects Of The Cutting Feed, Depth of Cut, and Workpiece (Bore) Diameter on The Tool Wear Rate," International Journal of Advanced Manufacturing Technology, vol. 34, issue 7-8, 2006, Pp. 1-10.
C. Dinc, I. Lazoglua, A. Serpenguzel, "Analysis of Thermal Fields In orthogonal Machining With Infrared Imaging", Jornal Of Materials Processing Technology, vol. 98, 2008, Pp.147- 154.
Naife A. Talib, "Studying The Effect of Cutting Speed and Feed Rate on Tool Life In The Turning Processes", Diyala Journal of Engineering Sciences, special issue, 2010, Pp.181-194.
Sunday Joshua Ojolo and Olugbenga Ogunkomaiya," A Study of Effects of Machining Parameters on Tool Life", International Journal of Materials Science and Applications. Vol. 3, No. 5, 2014, Pp. 183-199.
Dhananchezian M. Thinesh T, Steven Niketan Paul and Inian Roy A, "Study Of Machinability Characteristics For Turning Austenitic (316l) And Super Duplex (2505) Stainless Steel Using Pvd-Tialn Nano-Multilayer Inserts", ARPN journal of engineering and applied sciences, vol.11, No.2, 2016.
Oluseyi O. Ajayi, Abatan Abiola, Mercy Ogbonnay, Agarana Michael, "Development of Thermomechanical Model For Analysis of Effect of Friction and Cutting Speed on Temperature Distribution Around AISI 316 L During Orthogonal Machining", international conference on sustainable materials processing and manufacturing, 2017, Pp. 682-687.
George Tlusty, "Manufacturing Process and equipment", first edition, 2000, prentice hall.
A. and yellowley I. , "process detection of tool failure in milling using cutting force model", Journal of manufacturing science and engineering", 1989, 111(2), Pp. (149-157).
www.Stainless steel 316L
V. Dessoly, "Modeling and Verification of Cutting Tool Temperatures In Rotary Tool Turning of Hardened Steel", master thesis, Mechanical Engineering, Georgia Institute of Technology, 2004. Pp.(67).
J. Paulo Davim, "Machining of Hard Materials", Springer-Verlag London Limited, 2011, Pp.54.
M. P. Groover, "Fundamentals of Modern Manufacturing", third edition, lehigh university, 2007, Pp. 509.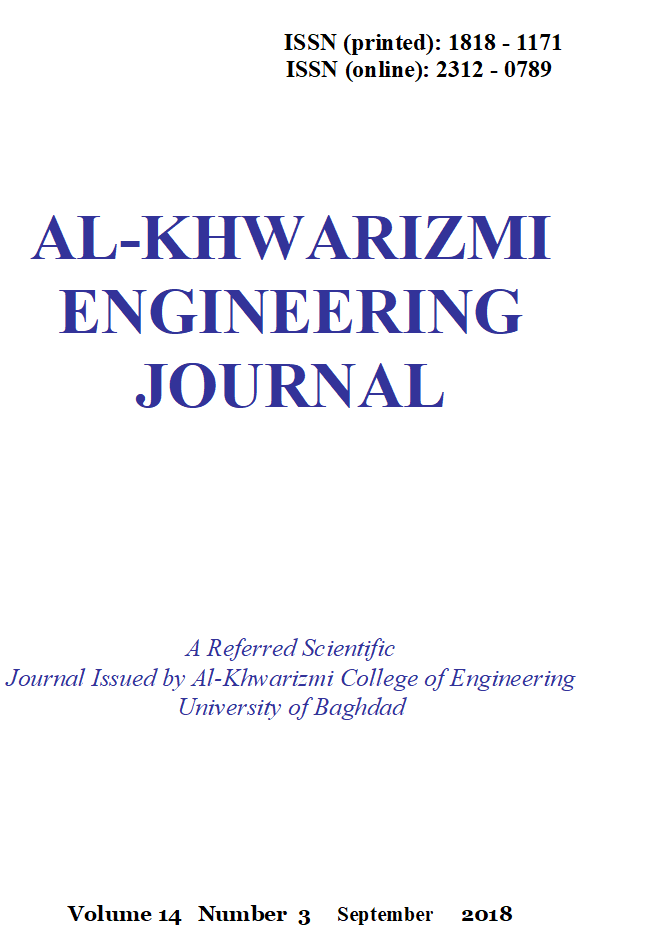 How to Cite
Akbar, A., Shwaish, R., & Hadi, N. (2018). Study the Effect of Cutting Parameters on Temperature Distribution and Tool Life During Turning Stainless Steel 316L. Al-Khwarizmi Engineering Journal, 14(3), 112- 122. https://doi.org/10.22153/kej.2018.01.007
Copyright: Open Access authors retain the copyrights of their papers, and all open access articles are distributed under the terms of the Creative Commons Attribution License, which permits unrestricted use, distribution and reproduction in any medium, provided that the original work is properly cited. The use of general descriptive names, trade names, trademarks, and so forth in this publication, even if not specifically identified, does not imply that these names are not protected by the relevant laws and regulations. While the advice and information in this journal are believed to be true and accurate on the date of its going to press, neither the authors, the editors, nor the publisher can accept any legal responsibility for any errors or omissions that may be made. The publisher makes no warranty, express or implied, with respect to the material contained herein.