Batch Sorption of Copper (II) Ions from Simulated Aqueous Solution by Banana Peel
Lahieb Faisal M. Faisal M.

Department of Environmental Engineering / College of Engineering/ Al-Mustansiriyah Univers
Keywords:
Sorption capacity, biosorption kinetic, Copper removal, Banana peel sorbent
Abstract
This research presents the possibility of using banana peel (arising from agricultural production waste) as biosorbent for removal of copper from simulated aqueous solution. Batch sorption experiments were performed as a function of pH, sorbent dose, and contact time. The optimal pH value of Copper (II) removal by banana peel was 6. The amount of sorbed metal ions was calculated as 52.632 mg/g. Sorption kinetic data were tested using pseudo-first order, and pseudo-second order models. Kinetic studies showed that the sorption followed a pseudo second order reaction due to the high correlation coefficient and the agreement between the experimental and calculated values of qe. Thermodynamic parameters such as enthalpy change (ΔH°), entropy change (ΔS°) and Gibbs free energy change (ΔG°) were also investigated. Free energy change showed that biosorption of Cu (II) was spontaneous and nature endothermic at all studied temperatures (25–45 °C).
Downloads
Download data is not yet available.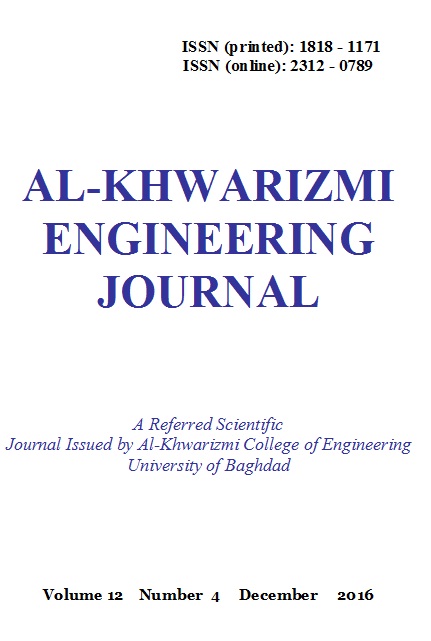 How to Cite
Faisal M., L. (2017). Batch Sorption of Copper (II) Ions from Simulated Aqueous Solution by Banana Peel. Al-Khwarizmi Engineering Journal, 12(4), 117-125. https://doi.org/10.22153/kej.2016.05.004
Copyright: Open Access authors retain the copyrights of their papers, and all open access articles are distributed under the terms of the Creative Commons Attribution License, which permits unrestricted use, distribution and reproduction in any medium, provided that the original work is properly cited. The use of general descriptive names, trade names, trademarks, and so forth in this publication, even if not specifically identified, does not imply that these names are not protected by the relevant laws and regulations. While the advice and information in this journal are believed to be true and accurate on the date of its going to press, neither the authors, the editors, nor the publisher can accept any legal responsibility for any errors or omissions that may be made. The publisher makes no warranty, express or implied, with respect to the material contained herein.