Simulation Model of Wind Turbine Power Control System with Fuzzy Regulation by Mamdani and Larsen Algorithms
Ghada Adel Aziz

Department of Electromechanics Engineering/ University of Technology
Keywords:
Mamdani and Larsen algorithms fuzzy inference, Matlab Fuzzy Logic ,Fuzzy-PID controllers, Wind turbine.
Abstract
Abstract 
     The aim of this work is to create a power control system for wind turbines based on fuzzy logic. Three power control loop was considered including: changing the pitch angle of  the blade, changing the length of the blade and turning the nacelle. The stochastic law was given for changes and instant inaccurate assessment of wind conditions changes. Two different algorithms were used for fuzzy inference in the control loop, the Mamdani and Larsen algorithms. These two different algorithms are materialized and developed in this study in Matlab-Fuzzy logic toolbox which has been practically implemented using necessary intelligent control system in electrical engineering and renewable energy concepts.
     A comparison was done to access the functionality of  the developed power control system of fuzzy logic and classical control system with PID – control. It can be concluded that the power control system of fuzzy logic allows to accurately maintain production under the control target function for each work area. When switching operation of wind turbines, it has the distinction that from 13.5 m/s  to another wind velocity value, there is no overshoot  and a typical of classical control systems, and when the wind velocity V is less than13.5 m / s, the pitch angle of the blades should be slightly greater than zero, and if it has increased by 5 °, then blade length should be minimal as possible. Simulation program proved the possibility of effective power regulation for the large wind turbines controller fuzzy type on the basis of knowledge production "if - then" rules, which were shown to be effective on these wind turbines control.
 Keywords: Mamdani and Larsen algorithms fuzzy inference, Matlab Fuzzy Logic ,Fuzzy-PID controllers, Wind turbine.
Downloads
Download data is not yet available.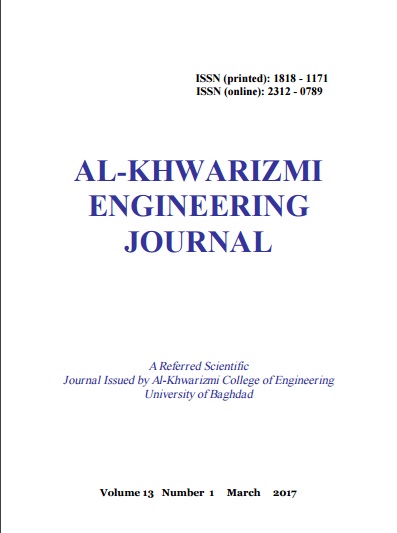 How to Cite
Aziz, G. (2017). Simulation Model of Wind Turbine Power Control System with Fuzzy Regulation by Mamdani and Larsen Algorithms. Al-Khwarizmi Engineering Journal, 13(2). https://doi.org/10.22153/kej.2017.01.003
Copyright: Open Access authors retain the copyrights of their papers, and all open access articles are distributed under the terms of the Creative Commons Attribution License, which permits unrestricted use, distribution and reproduction in any medium, provided that the original work is properly cited. The use of general descriptive names, trade names, trademarks, and so forth in this publication, even if not specifically identified, does not imply that these names are not protected by the relevant laws and regulations. While the advice and information in this journal are believed to be true and accurate on the date of its going to press, neither the authors, the editors, nor the publisher can accept any legal responsibility for any errors or omissions that may be made. The publisher makes no warranty, express or implied, with respect to the material contained herein.