Delignification of Date Palm Fronds using Modified Organosolv Technique
Yasmeen Salih Mahdi

Department of Biochemical Engineering / Al-Khwarizmi Engineering College / University of Baghdad

Asem Hassan Mohammed

Institute of Technology Baghdad/ Chemical Industries/ Middle Technical University

Alaa Kareem Mohammed

Department of Biochemical Engineering / Al-Khwarizmi Engineering College / University of Baghdad
Keywords:
Biomass pre-treatment, delignification, lignin, organosolv, date palm fronds.
Abstract
Abstract
  In this study, modified organic solvent (organosolv) method was applied to remove high lignin content in the date palm fronds (type Al-Zahdi) which was taken from the Iraqi gardens. In modified organosolv, lignocellulosic material is fractionated into its constituents (lignin, cellulose and hemicellulose). In this process, solvent (organic)-water is brought into contact with the lignocellulosic biomass at high temperature, using stainless steel reactor (digester). Therefor; most of hemicellulose will remove from the biomass, while the solid residue (mainly cellulose) can be used in various industrial fields. Three variables were studied in this process: temperature, ratio of ethanol to water and digestion time. Statistical experimental design type Central Composite Design (CCD) has been used to find a mathematical relationship between the variables and the remaining lignin percent as dependent variable. The results obtained in this study were represented by a polynomial mathematical equation of the second degree.  The results showed that the best digestion time was (80 minutes), which gave the best percent remaining concentration of lignin (3%) at temperature of 185oC and ratio of ethanol: water equal to 50: 50 wt/wt. In order to reduce digesting time, the effect of using different catalysts have been studied such as (NaOH, H2SO4, Ca (OH) 2) at low concentration (0.025, 0.025, 0.05M) respectively. It was found that the best catalyst is sodium hydroxide at concentration (0.025) mol/L which gave the same percent of  lignin 3% but with low digestion time about 30 min.
Keywords: Biomass pre-treatment, delignification, lignin, organosolv, date palm fronds.
Downloads
Download data is not yet available.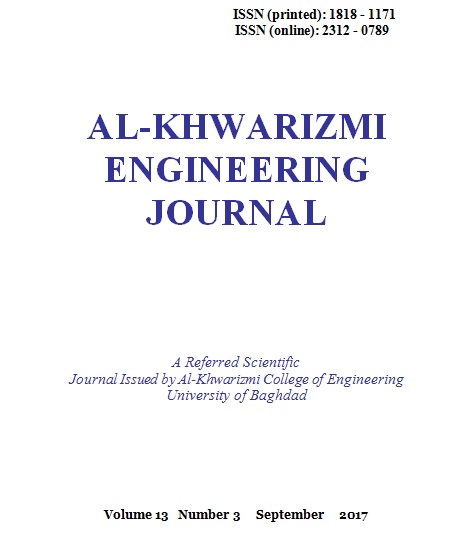 How to Cite
Mahdi, Y., Mohammed, A., & Mohammed, A. (2017). Delignification of Date Palm Fronds using Modified Organosolv Technique. Al-Khwarizmi Engineering Journal, 13(3), 1-9. https://doi.org/10.22153/kej.2017.07.001
Copyright: Open Access authors retain the copyrights of their papers, and all open access articles are distributed under the terms of the Creative Commons Attribution License, which permits unrestricted use, distribution and reproduction in any medium, provided that the original work is properly cited. The use of general descriptive names, trade names, trademarks, and so forth in this publication, even if not specifically identified, does not imply that these names are not protected by the relevant laws and regulations. While the advice and information in this journal are believed to be true and accurate on the date of its going to press, neither the authors, the editors, nor the publisher can accept any legal responsibility for any errors or omissions that may be made. The publisher makes no warranty, express or implied, with respect to the material contained herein.