Improving Wear Properties of 392 Al Alloy Using Centrifugal Casting
Akeel Dhahir Subhi

Department of Production Engineering and Metallurgy / University of Technology/ Baghdad

Adnan Mohsen Abd

Department of Production Engineering and Metallurgy / University of Technology/ Baghdad
Keywords:
Centrifugal casting, Wear properties, 392 aluminum alloy.
Abstract
The microstructure and wear properties of 392 Al alloy with different Mg contents were studied using centrifugal casting. All melted alloys were heated to 800 ºC and poured into the preheated centrifugal casting mold (200-250 ºC) at different mould rotational speeds (1500, 1900 and 2300 r.p.m).  It is clear from the results obtained that wear rate was dependent on the Mg content, applied load and mould rotational speed. Furthermore, wear test showed that the minimum wear rate was found in the inner layer of produced rings at mould rotational speed of 1900 r.p.m and Mg content of 5%.
Downloads
Download data is not yet available.
References
Metals Handbook, 9 th ed., Vol.2," Properties and selection : non ferrous alloys and pure metals", American Society For Metals , Metals Park (Ohio), 1979.
E. Panda, S. P. Mehrotra, D. Mazumdar, "Mathematical modeling of particle segregation during centrifugal casting of metal matrix composites", Metall. Mater. Trans.A , 37 (2006) 1675.
W. Chen, Q. Wang, C. Zai, C. Ma, Y. Zhu, W. He, "Functionally graded Zn-AI-Si in-situ composites fabricated by centrifugal casting" J. Mater. Sci. Lett, 20 (2001) 823.
S. Put, J. Vleugels, O. Van der Biest, "Microstructural engineering of functionally graded materials by electrophoretic deposition", J. Mater. Proc. Technol., 143 (2003) 572.
B. Zhou, "Functionally graded Al/Mg2Si in-situ composites, prepared by centrifugal casting", J. Mater. Sci. lett., 17 (1998) 1677.
G. Chirita., D. Soares, F.S Silva., "Advantages of the centrifugal casting technique for the production of structural components with Al-Si alloys", Mater. & Design, 29 (2008) 20.
Y. Xie, C. Liu, Y. Zhai, K. Wang, X. Ling, "Centrifugal casting processes of manufacturing in-situ functionally gradient composite materials of Al-19Si-5Mg alloy", Rare Met., 28 (2009) 405.
Y. Zhai, X. Ma, Z. Mei, "Centrifugal forming mechanism of Al gradient composites reinforced with complementary primary Si and Mg2Si particles", Rare Met. Mater. and Eng., 43 (2014) 769.
S. Das, D. Mondal, S. Sawla and N. Ramkrishnan, " Synergic effect of reinforcement and heat treatment on the two body abrasive wear of an Al–Si alloy under varying loads and abrasive sizes", Wear, 264 (2008) 47.
J. G. Kaufman, E. L. Rooy, "Aluminum alloy castings: properties, processes, and applications", ASM International, Materials Park (Ohio), (2004).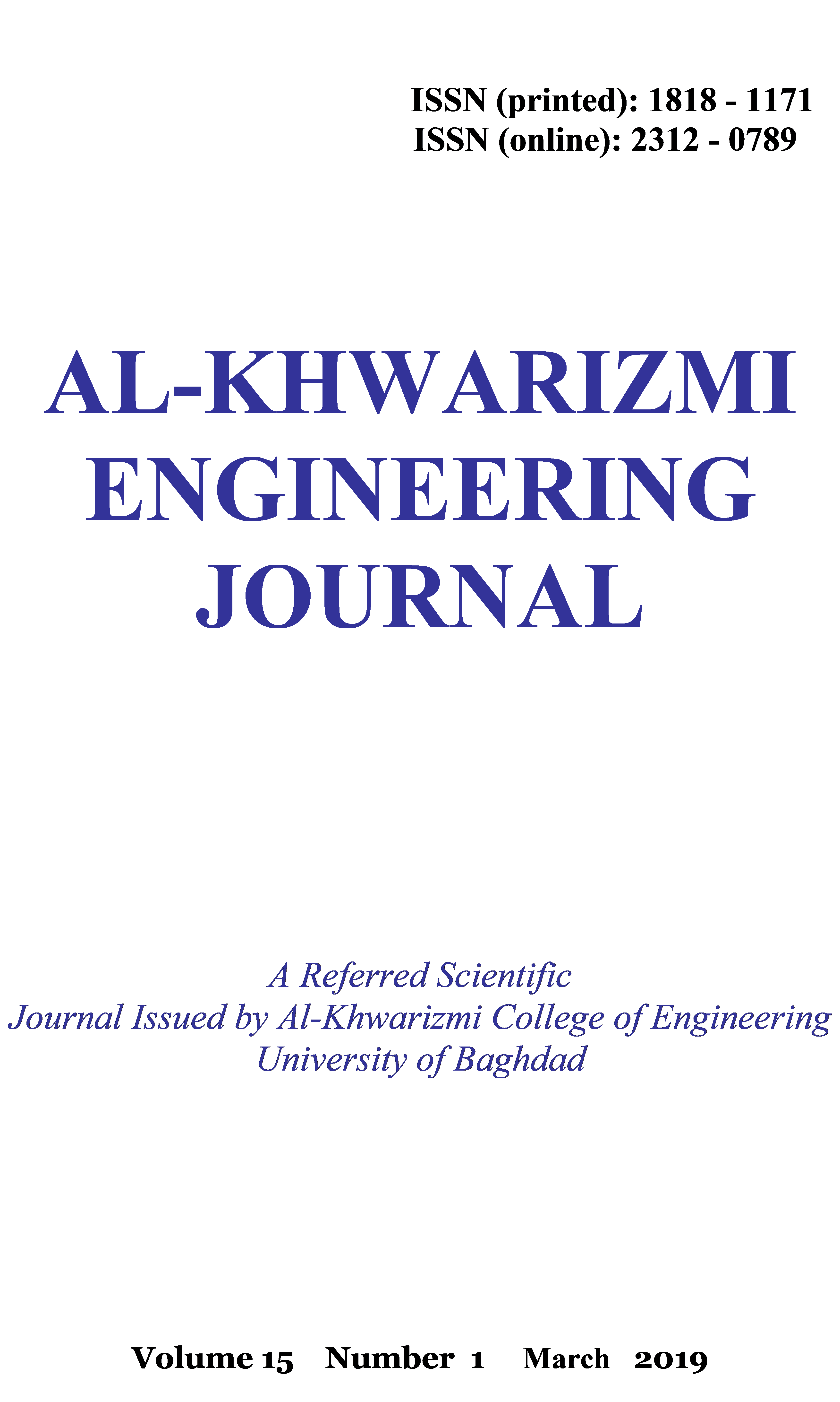 How to Cite
Subhi, A., & Abd, A. (2019). Improving Wear Properties of 392 Al Alloy Using Centrifugal Casting. Al-Khwarizmi Engineering Journal, 15(1), 63- 70. Retrieved from https://alkej.uobaghdad.edu.iq/index.php/alkej/article/view/419
Copyright: Open Access authors retain the copyrights of their papers, and all open access articles are distributed under the terms of the Creative Commons Attribution License, which permits unrestricted use, distribution and reproduction in any medium, provided that the original work is properly cited. The use of general descriptive names, trade names, trademarks, and so forth in this publication, even if not specifically identified, does not imply that these names are not protected by the relevant laws and regulations. While the advice and information in this journal are believed to be true and accurate on the date of its going to press, neither the authors, the editors, nor the publisher can accept any legal responsibility for any errors or omissions that may be made. The publisher makes no warranty, express or implied, with respect to the material contained herein.