Produced Water Treatment Using Ultrafiltration and Nanofiltration Membranes
Bashir Y. Sherhan

Membrane Technology Research Unit/ Department of Chemical Engineering / University of Technology

Areej D. Abbas

Membrane Technology Research Unit/ Department of Chemical Engineering / University of Technology

Qusay F. Alsalhy

Membrane Technology Research Unit/ Department of Chemical Engineering / University of Technology

Alaa A. Rashad

Chemical and Petro-Chemical Research Center/ The industrial R and D/ Ministry of Industry and Minerals/ Iraq

Zahraa W. Rashad

Chemical and Petro-Chemical Research Center/ The industrial R and D/ Ministry of Industry and Minerals/ Iraq

Aiden A. Shawkat

Chemical and Petro-Chemical Research Center/ The industrial R and D/ Ministry of Industry and Minerals/ Iraq

Thamera K. Abbas

Chemical and Petro-Chemical Research Center/ The industrial R and D/ Ministry of Industry and Minerals/ Iraq

yusra M. Mahdi

Chemical and Petro-Chemical Research Center/ The industrial R and D/ Ministry of Industry and Minerals/ Iraq

Noura A. Abdul Kareem

Chemical and Petro-Chemical Research Center/ The industrial R and D/ Ministry of Industry and Minerals/ Iraq
Keywords:
Ultrafiltration membrane, Nanofiltration membrane, Oily wastewater, Produced water, Desalination
Abstract
The application of ultrafiltration (UF) and nanofiltration (NF) processes in the handling of raw produced water have been investigated in the present study. Experiments of both ultrafiltration and nanofiltration processes are performed in a laboratory unit, which is operated in a cross-flow pattern. Various types of hollow fiber membranes were utilized in this study such as poly vinyl chloride (PVC) UF membrane, two different polyether sulfone (PES) NF membranes, and poly phenyl sulfone PPSU NF membrane. It was found that the turbidity of the treated water is higher than 95 % by using UF and NF membranes. The chemical oxygen demand COD (160 mg/l) and Oil content (26.8 mg/l) were found after treatment according to the allowable limits set by means of world health organization WHO water quality standards. The final composition of SO4-2 (110 mg/l) and NO3 (48.4 mg/l) components within the produced water after treatment were agreed with the permissible limits of WHO, whereas Cl-1 (8900 mg/l) component is not in the allowable limits. Finally by the use of PVC, PES and PPSU hollow fiber membranes; this method is seen to be not sufficient to remove the salinity of the produced water.
Downloads
Download data is not yet available.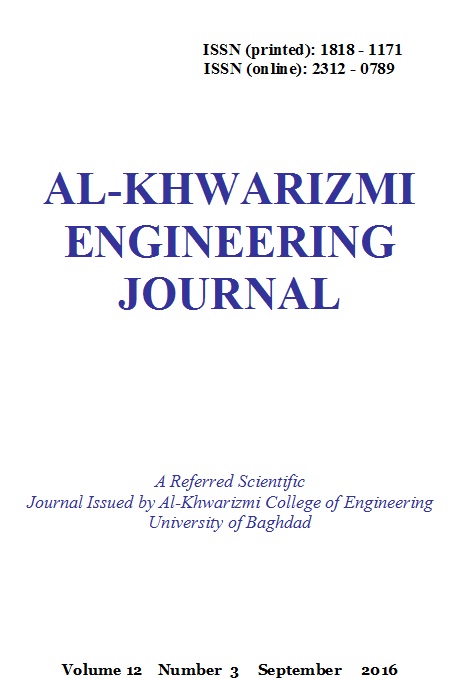 How to Cite
Sherhan, B., Abbas, A., Alsalhy, Q., Rashad, A., Rashad, Z., Shawkat, A., Abbas, T., Mahdi, yusra, & Abdul Kareem, N. (2017). Produced Water Treatment Using Ultrafiltration and Nanofiltration Membranes. Al-Khwarizmi Engineering Journal, 12(3), 10- 18. Retrieved from https://alkej.uobaghdad.edu.iq/index.php/alkej/article/view/304
Copyright: Open Access authors retain the copyrights of their papers, and all open access articles are distributed under the terms of the Creative Commons Attribution License, which permits unrestricted use, distribution and reproduction in any medium, provided that the original work is properly cited. The use of general descriptive names, trade names, trademarks, and so forth in this publication, even if not specifically identified, does not imply that these names are not protected by the relevant laws and regulations. While the advice and information in this journal are believed to be true and accurate on the date of its going to press, neither the authors, the editors, nor the publisher can accept any legal responsibility for any errors or omissions that may be made. The publisher makes no warranty, express or implied, with respect to the material contained herein.